The Re-Introduction of John Forte - Part One
With a new lease on life, Mr. Forte aims to change the world, one guitar riff at a time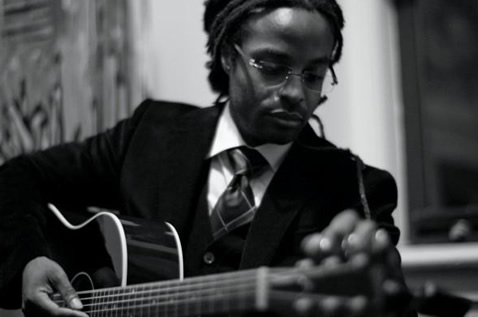 In 2008, President Bush shocked the nation by pardoning 14 prisoners before leaving office, one of them being John Forte. Forte served eight years out of a minimum 14-year sentence for drug possession with the intent to distribute. Prior to that, he was an artist on the rise, part of the Fugees' Refugee Camp movement. His two albums Poly Sci and i, John were fundamentally different (on one he raps, the other he sings), but the message was clear that John Forte was a multi-talented artist with a bright future. Then in 2000 he was sent to prison. On December 22, 2008 he was a free man, and since then his entire life has changed.

Too many artists leave jail with the gates unlocked behind them, but Forte has spent the past two years proving he is the exception. When he arrived on time for his interview with Groove, he explained "I wasn't always like this." While juggling a busy travel schedule, performing for the Acumen fund, writing a book, and editing a documentary, John Forte took some time to catch up with us. Is music on his menu? Sure. But so are a lot of things, and like his new-found mantra, he aims to make every moment count.
Groove: You just finished performing and speaking with the Acumen Fund and are mapping out some more live performances...
John Forte: Yeah, including this weekend. This weekend I'm the Musical Director for the Happy Hearts Fund Annual Gala. I also sit on the advisory board for the Happy Hearts. It's a great organization, started by Petra Němcová after the tsunami a few years ago when she lost her fiancé. Instead of becoming immobilized by that, she became empowered and she started this great organization that goes to areas of the globe that are ravished by natural disasters and rebuilds the infrastructure, primarily schools. It's very admirable. Everyone sort of knows about the first wave of relief, but not too many people pay attention to the second and third waves of relief that happen after the media is gone. So I'll be the Musical Director for their Gala. One of the people being honored is Quincy Jones. I'm going to do some of my original music, while scoring and arranging a medley of some of Quincy's best and least known works. So that's a bit challenging because I'm providing sections for horns and strings. For years I was just a rapper, and now people are like, "Hey would you score this stuff?" So it's challenging, but also very nerve-racking...and rewarding! Just because people think I have the skill set in order to do this...which is cool.
Groove: Well on Poly Sci you were rapping, but by the time i, John came out, people really began to understand what a well-rounded musician you really were.
John Forte: I hadn't for years given myself the credit of my background. I didn't start off rapping, I started off playing the violin. It was something that I'd forgotten. I played the violin since I was eight, and even through the Fugees era and having the luxury and the blessing of working with them, I put my classical roots on the backburner. Which was probably not the wisest of decisions, but when you do stuff like that you forget that you're a little bit more than the sum of your parts. It was great with i, John because it allowed me to reintroduce myself to my former self. i, John was the beginning of everything for me, in that weird sort of way. It was that point in my life where it was the darkest, but it's always dark before the dawn. I got to see that ray of light of making music without compromise and saying, "Hey I feel like I wanna rock out on this track" or "I wanna sing a ballad". It wasn't about fitting into a category or a chart. It was about doing music the way I felt that music needed to be expressed. And that's what raised the bar on everything that's happened since.
Groove: We're now approaching your two year anniversary from being released from prison. You've done amazing things in these two years. Did you make some sort of promise to yourself to contribute a certain way to the world?
John Forte: The only promise I made to myself and others was to make each day the most beautiful yet. It wasn't about filling up a calendar and having a ton of projects as much as it was having the best qualitative experience possible. Even if it was a three hour walk, it was making it the best three hour walk that I've ever taken. The past was already gone and the future's not here, and without sounding like some Eckhart Tolle acolyte I do believe that the only gift that I have right now is this very moment. What's happened in living and admitting to that lifestyle is that I've been able to accomplish a lot. I think it's in seeing something so beautiful as the moment and seeing opportunities in that moment that affords us our best work. It also allows me to do my best work and to move on from it and not dwell on it. Some of my best songs that I thought we go on to garner international acclaim and notoriety barely made its way to a dozen ears. And then some of the work that I thought to be "Ehhh, it's good but won't go on to generate interest" has had a ton of people talking. We can't predict the future, so in lieu of being able to predict the future the best option is to have the best possible present. When people start recounting what I've done over the past couple of years, it surprises me because I'm already in the midst of doing something else. I'm thrilled about what I've been able to do for the past couple of years, most importantly because I don't think I've taken a day for granted. That's what means more to me than anything else.


Groove: In 2000, if you were told that the trajectory of your career would include doing all of these things, would you have believed it?
John Forte: You know, probably not. 2000 was a really difficult year for me. I didn't have any roots, I didn't have any sense of certainty or purpose. I didn't know what I was going to, and even my musical direction was insincere. I wasn't making music for me, I was making music to keep up with the Joneses. I was listening to what was on the radio, I was looking at what was finding success on the video station. It wasn't about me trying to find a deeper place or me asking myself the harder questions; me having that inner dialogue. And it was that year 2000 that ultimately led to my demise. That being said, one question people will ask is if I have any regrets. I can't admit to having any regrets because I really like who I am today, and I had to go through that trial, I had to go through that test or endure that pain in order to get to the other side of it. That's not to say that I don't think I'm flawed; I have many many flaws and I'm working toward improving those flaws every single day. The short answer is that I couldn't have told you ten years ago that I'd be here today. I also think that how I defined success ten years ago is very very different from how I define success today. 
If I may just give you an example...
I was speaking at a Ted Ex conference in Baltimore around this time last year. I said to myself, "I don't want to just show up for this conference. I want to find an opportunity to perform for the locals." I hadn't been to Baltimore in a long time, so I put that energy out into the ether and a family contacted me saying, "We've got a local pool hall. It's in the hood, but we've owned it for years. We would love to have you there." So Baltimore, you know I associate with "The Wire". I don't know what it's about, I just go with my media interpretation of the region. I show up and there are like 17 people in this second floor pool; none of whom I think knew about my past or who I was as an artist. I didn't show up with a band or a DJ; I just showed up with my guitar. I pulled out a stool and just started singing my songs. They were still playing pool, they were still ordering drinks, and watching sports on TV. I just sang and sang and sang. By the time it had reached the end of my performance, they had stopped ordering drinks, they suspended all pool games, they turned the televisions off and everyone in the pool hall was with me. That was one of my highlights over the past two years. It wasn't about selling out an arena or selling millions of records. It was about connecting with people on the purest level. Afterward, everyone stayed behind and we took photographs and everyone bought a CD. I felt successful. I felt as an artist I put forth my best effort and connected with the people. That to me is successful living. I don't know; it felt awesome.

live local music on
Enter your ZIP code to see concerts happening in your area.
Data provided by Zvents
follow msn music