Rihanna is as "Unapologetic" as ever
Did you expect anything less?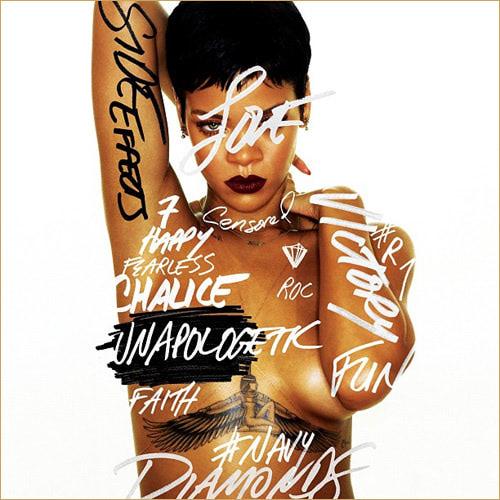 As usual, Rihanna's new album is a mixed bag of bold braggadocio and cunning come-on's, but the beauty really lies in the ballads that expose a refreshingly unguarded, endearing, and maybe even more mature version of the star.
The
appropriately-titled​
"Phresh Off the Runway"
opens the album because, like any model with a well-perfected walk, Riri's verbal stomp is authoritative, but the song's still unfortunate. Over a cacophony of distorted, screwy synths, she boasts the same ol' cocky attitude: "I'm f**kin' you, cheap thrill / on top of my 50 mil." And she's no more humble on the hazy, slow-mo strip club anthem
"Pour It Up"
(which, by the way, borrows almost entirely from Juicy J's "Bandz a Make Her Dance").
Things don't get better when she invites friends, either: Eminem is squeezed into the last minute of the shake charmer-carried
"Numb"
—a track so repetitive it should have just been an interlude—and Future's usual style of singing/yawning is so pitchy on the '90s R&B-inspired, organ-heavy
"Loveeeeeee Song"
that Rihanna was better off going it alone.
Thankfully,
everything
gets better from there.
Rihanna proves she's still a master at making us move with
"Jump,"
which starts off with a galloping beat so steep, we feel like we should get out of that way; on it, she seamlessly samples Ginuwine's "Pony" with Skrillex-like dubstep. She's reunited with David Guetta on
"Right Now"
to deliver an expected, but no less enticing dance track that checks off all the cliche lyrics about living for the moment. And on the closer
"Lost in Paradise,"
she blends a ballad inside electro-pop when she bluntly asks, "How was I to know that my love was delusional?"
But it's that overt vulnerability on this album that's really arresting because, in all honesty, the overwhelming presence—both literal and symbolic—of her ex-boyfriend Chris Brown is what's caught our attention. Sure, he appears as a guest on the serendipitous snap-worthy disco track
"Nodody's Business"
(on which they seem to be declaring that their relationship is just
that
), but it's the other implications that are hard to ignore.
On the heart-wrenching confessional
"Love Without Tragedy,"
Rihanna makes more double entendres than we can count over moody '80s alt-rock music: "Who knew the course of this one drive injured us fatally? / You took the best years of my life / I prayed that love don't strike twice." And on the obligatory reggae tune
"No Love Allowed,"
complete with a reverberating ping, Riri admits, "Your love hit me to the core / I was flying 'til you knocked me to the floor / How could you murder us?" (Also, on the string-laden
"Get It Over With,"
the mystery man singing in the background surely sounds like Brown.)
Controversy aside, however, "Unapologetic" marks the moment Rihanna finally experimented vocally, and challenged her own sincerity. As first heard on dramatic lead single
"Diamonds,"
Riri pushes past her usual limits. She ends the piano-driven ballad
"Stay"
on a literal high note; on
"What Now"
she ranges from a meek purr to a powerhouse; and when she
prays about her fast lane to fame on
"Mother Mary,"
you kind of feel for her: "I'm prepared to die in the moment / 'Cause even forever ain't forever."
But like the album's title declares, Rihanna has no shame in telling (and selling) her story exactly the way it is: once tortured, possibly still troubled, but—in one way or another—treasured because it's hers and hers alone.
[Follow @DanielleSaid]
Are you sure you want to delete this comment?
live local music on
Enter your ZIP code to see concerts happening in your area.
Data provided by Zvents
follow msn music