Sipping Tea with Tinie Tempah
The UK's rising star tells us how he got here and how he turned down Jay-Z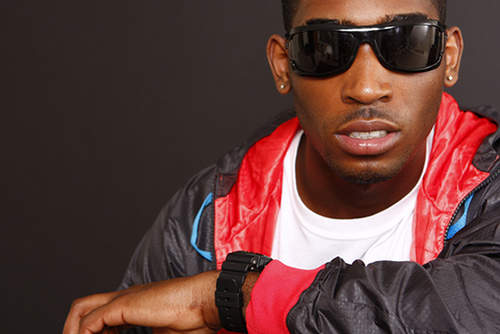 "Amen! Hallelujah! Tinie look what's happened to ya!" rapper Tinie Tempah exclaims on his song "Wonderman" with fellow UK star, Ellie Goulding. Tinie has a lot to be thankful for. His debut album
Disc-Overy
skyrocketed to the Number One position on the UK charts, thanks to a little crossover hit called "Pass Out" (see the video below). Now it's time for super slick wordsmith to hop across the pond and make waves in the U.S. As Tinie Tempah prepares for his international takeover, he takes a moment to tell us about his history and how he said "no thanks" to Jay-Z in order to build his own empire.
Groove: For fans who don't already know this, where did the name "Tinie Tempah" come from?Tinie Tempah:
Tinie Tempah is just my interpretation of the phrase "Yin and Yang", two opposites that go together that are not really supposed. It was something that I thought of when I was quite younger and it stuck. When you think of "tiny" you think of something small, and when you think of "temper" you think of something kind of big and loud. Two complete opposites. That's the kind of ethos I like to apply to everything I do. Do things that people don't expect.
Groove: People think this success happened overnight, but in reality you've been doing this for quite a while...Tinie Tempah:
Yeah definitely. I've been doing it since about 2006, just working away trying to make it happen. We started our own independent record label called Disturbing London, and we've been trying to make it happen, shooting independent music videos and trying to do everything by major record labels' standards. We kinda hit a little glass ceiling for a while and decided to take everything online. I put up a blog in 2009 called "
Milk and 2 Sugars
" which is very English of course and that's because I drink alot of tea. That just really really took off. People reacted to that really well so I had a huge online following. After that the record label interest just naturally began.
Groove: At what point did you realize your success was reaching the next level?Tinie Tempah:
I think it was with "Pass Out", definitely with the waves it was creating. It was a very raw and underground record to begin with, which transcended and transcended and went on a few mainstream radio playlists. Everything kind of happened after that. Once I heard "Pass Out" was blowing up and showing up in the clubs and on major radio stations, I thought, "Wow, yeah. This is really starting to happen."
Groove: Coming to the U.S. now, do you feel there is anything you've had to change about your style or sound in order to fit into the States?Tinie Tempah:
Do you know what? It wasn't so much change as it was understanding a little bit more. I think what I didn't realize was that I really needed to be in America and really understand the culture. Although we speak the same language and more or less wear the same clothes and watch the same sort of television, there are loads of cultural differences. You don't actually realize it until you're over there for a while. I'm saying that and I've only been to NYC. I'm sure when I get to LA it'll be completely different all over again.

Groove: Do you feel as though you're starting over in the US?Tinie Tempah:
Yeah, but in a good way. It's kind of exciting to be somewhere fresh and new and try things out. Things aren't going to go exactly the same way and certain songs aren't going to work exactly the same way they did. However, I find it very exciting. I went to a club and they played "Pass Out" and I saw a few people moving. That's exactly how it was also in England. People are reluctant and skeptical about things they don't know until they're more familiar with it. The same way I performed "Pass Out" for the very first time in England, the same way only three or four people moved. The rest stood still and looked at me. However, I'd go to the same club two months later and "Pass Out" would come on and the same people would go absolutely crazy. Hopefully when I get to America I get a fresh new perspective on things.
Groove: There was a rumor that Jay-Z was trying to sign you to Roc Nation. What was the story behind that?Tinie Tempah:
Basically, Jay-Z came and said "If Tinie wants to make it really big around the rest of the world, you need to come and talk to us, to Roc Nation." Obviously after hearing that I was real flattered. That was something...we all idolize Jay-Z and want to achieve what he has. We all would like to have our very own Roc Nation. That was flattering, man. It was nice. It was like a pat on the shoulder, a little cosign there. It just inspired me to carry on making good music and focus on what I'm doing and focus on my project, because at the end of the day I have my own little Roc Nation. That's what it really was.
Groove: So you're more interested in building your own thing, as opposed to being a part of someone else's empire?Tinie Tempah:
Yeah, exactly. I've started something good and I've managed to generate a lot of buzz for myself by just being who I am, coming with something fresh and different. I just want to continue that way.
Groove: That's interesting. Most people would jump at an opportunity like that, but you're choosing to carve your own path. That's smart.Tinie Tempah:
Yeah, I mean everyone wants their own Roc Nation. The same way Jay-Z had a dream, he envisioned having a conglomerate is the same way we all have that dream. At the end of the day, whatever's meant to be will be. At the same time, right now, I'm just focused on building my own brand.
live local music on
Enter your ZIP code to see concerts happening in your area.
Data provided by Zvents
follow msn music