Get To Know: SL Jones
Killer Mike trained, with the killer "Paraphernalia"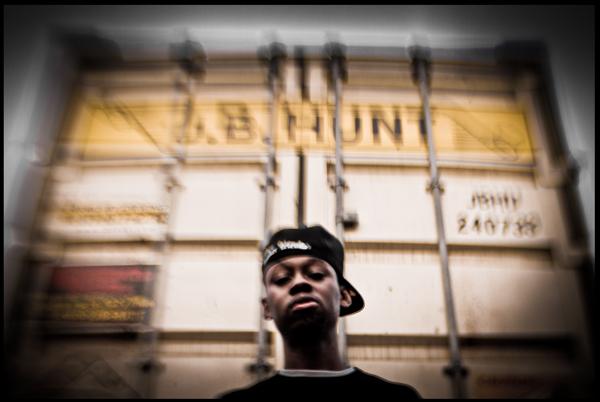 Who:
SL Jones
From:
Little Rock, AK
Why You Should Get To Know Him:
Because his winning formula is having no formula
The Hip-Hop scene in Little Rock, Arkansas is a rich one per SL Jones. Not rich in the wealthy sense, but full of rappers whose aims are all pointing toward a common goal: to put Little Rock Rap on the map. A fortuitous meeting with Killer Mike was all SL Jones needed for the greater public to hear his rhymes and want more. Jones became part of Mike's Grind Time Rap Gang, after Killer Mike heard an inkling of the skills Jones possessed. Last month, SL Jones dropped the collaborative mixtape
Paraphernalia
with DJ Burn One. As the critically acclaimed emcee continues his success story, he talks to Groove about Killer Mike's wise words, his trajectory in rap, and what we can expect from one of Hip-Hop brightest new stars.

What is the Hip Hop scene like in Little Rock?
The scene in Little Rock is exciting to me, personally. There's a lot of quality music waiting to be discovered, and the music coming out of there is so diverse right now that you can't really categorize it as one sound. The rappers in Little Rock don't want to leave the city to pursue music; they're working to establish a credible Hip-Hop scene that the city can get behind and support.
How did you initially meet with Killer Mike and become a part of Grind Time Rap Gang?
Killer Mike had heard a few random freestyles I recorded and gave me a call. Next thing I know, I'm meeting with him at Stankonia and talking about possibly doing some music together. It all happened so fast; one thing led to another and I was in the studio working with him non-stop. I even went on tour with him a few times. When you're on the grind, you connect with people that have mutual interests and everyone shares a common goal – you form a family-like bond pretty quickly.
What is one valuable lesson Killer Mike taught you about Hip Hop?
Killer taught me to respect Hip-Hop as a culture. It may sound crazy, but Killer probably sees Hip-Hop as somewhat of a religion [laughs]. He always talked about it being more than just the music we make. He would say, we are the voice of the culture, so its our responsibility to say the things that no none else wants to say and often times, may not want to hear. He always felt like truth and integrity is way more important than popularity.
You're churning out a lot of projects, most recently Paraphernalia. What is your formula for your mixtapes?
I don't really have a formula when it comes to making mixtapes. My creative approach depends on the mood I'm in and what I'm going through at that time. I like to establish the vibe and direction of the mixtape in the beginning – it helps me focus on the overall sound of the project.
With Paraphernalia, you worked with DJ Burn One. What was your creative process like?
The creative process with DJ Burn One was a collaborative effort from start to finish. He hates when I call him a genius, but he is. Every song felt like a jam session in the studio. DJ Burn One and his band, iNDEED, played every instrument live. I've always been solid lyrically, but on
Paraphernalia
, in particular, it was important for me to make sure my vocal tone complimented the music.
What do you hope to achieve with each release?
With each release, what's most important to me is that I continue to grow as an artist. I also look forward to building a larger fan base, and with that, hopefully to be able to attain all the benefits of what comes with being a successful and relevant artist. I'm really big on production value, so as long as each release is a balance of dope lyrics, dope beats, and dope concepts, I'm confident everything else will fall in place.
How many hours a day do you clock in the studio?
I have no idea [laughs]. It's hard to say, because it depends on what I'm working on. My sense of time is terrible – I like to get lost in whatever it is that I'm doing. Some days I'm in the studio for a couple of hours; sometimes I'm in the studio all day.
When can we expect your LP?
I think
Paraphernalia
proves that I'm very capable of recording a quality LP, but it's still too soon for an official "SL Jones LP." That will be something for the fans to look forward to in the near future. I feel like the criteria that determines a successful LP and a successful mixtape are totally different, so I'm going keep working towards that goal until I'm in a position to do it right.
What's next for you?
What's next for me: more mixtapes, more shows, more collaborations – really, just more of everything I've been doing. I know when I say it, it just sounds like more of same, but I figure that the more I work, the better I'll get – and the bigger I'll become.
If you weren't here doing this, where do you think you would be?
This is all I want to do, so if I wasn't doing this, I don't know where I would be. I'm from a place too slow to live fast, but dangerous enough to die young. For me, having a second option would be like having an excuse to fail. I don't have a plan B or anything else to fall back on, so it's all or nothing for me.
live local music on
Enter your ZIP code to see concerts happening in your area.
Data provided by Zvents
follow msn music