J.Hud, Ne-Yo & Rick Ross Try to Sell Us on Thinking "Like a Man"
Not sure if I buy it.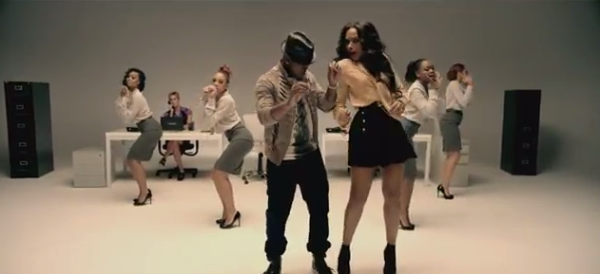 I haven't yet put the advice of "acting like a lady and thinking like a man" into action -- I already struggle with the former -- but if Steve Harvey has his way, every woman will be doing so by the end of this year.
It's a slow-moving, calculated takeover he's already set the groundwork for with his radio show (on which he reads "Strawberry Letters" written by guidance-seeking sad sacks), his book "Act Like A Lady, Think Like A Man," an upcoming movie, and well, now, a song of the same, which he
kinda
has nothing to do with (no
"Blame Game"
-esque guest appearances here!) but from the looks of it, he's already brainwashed our beloved Jennifer Hudson. All that Weight Watchers-built strength has just come a'tumblin' down in the name of love.
In the video for "Think Like A Man," also featuring Ne-Yo and Rick Ross, J.Hud (and, fine, her boobs!) are all work and no play, and speak in a sassy, third person-kind of way we hope doesn't catch on outside of role-playing: "Boss lady got a lot of work to do." (How no one suggested to incorporate a finger snap in there is beyond me.) You see, she's rejecting the advances from her (scene-stealing) co-worker, comedian Kevin Hart, to turn their business relationship into something more pleasurable. Why is she declining the funny (and, therefore, subsequently sexy) man?! Oh, you'll find out later.
But first you have to try not to scream as you watch Rick Ross morph into a chocolate
crocodile-snake-arma​dillo
swamp thing. His entire get-up makes all of Ne-Yo's finger-Vogueing forgivable. In fact, J.Hud, herself, who barely moved on a stage until 2011, puts Ne-Yo's footless "dancing" to shame - what with all her mini-skirt shimmying. Confidence looks
good
on her. And if that's what comes along with "thinking like a man," SOLD.
live local music on
Enter your ZIP code to see concerts happening in your area.
Data provided by Zvents
follow msn music