Get To Know: Sha Stimuli
Your favorite rookie's favorite veteran.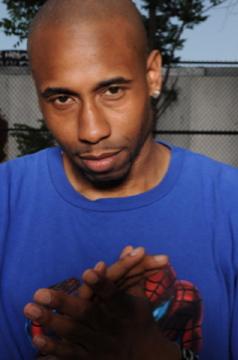 Who:
Sha Stimuli
From:
Brooklyn, NY
Why You Should Get To Know Him:
Because Jay-Z was checking for him long ago.
It's difficult to fathom there are still people walking this earth who don't know much about Sha Stimuli. The Brooklyn bred emcee has a long storied tale in Hip-Hop, one with several turns. After earning an Unsigned Hype years ago in The Source, Sha had a bidding war between Virgin Records and Jay-Z back when he first took his seat as President of Def Jam. That was a long time ago, but Sha Stimuli has continued to pound the pavement as a hard-working and gifted artist. His monthly EP's show that with a sophisticated level of productivity, rhymes come easily. He elaborates on that for Groove, along with his early days backstory and what the future holds for him.
You were in Unsigned Hype in The Source back in 2003. How do you react to people who still think you're a "new" artist?
I want to fight them. Not like a fist fight, but I want to put them in a mini-chokehold for a few seconds. I'm joking about that. I have accepted the fact that I am not mainstream and I went from desiring fame and fortune to being comfortable when someone says they have never heard of me, yet they wonder why. It's actually cool...and I'm not just saying that to convince myself that I am not a failure. Because for some time I thought that it sucked when people thought of me as new. So I guess I'm old and new at the same time. Yeah basically that's the reaction kinda.
You were sought out by Jay-Z earlier on in your career. Can you speak on that?
Well let's just say my A&R was Lenny S at the time at Virgin Records, and he left to go back to Def Jam when Jay was President. And Jay said he wanted me to come along. Unfortunately, the actual transfer from major label to another major label isn't too easy. And although Jay-Z originally said he wanted me on Def Jam, the truth about his intentions are lost somewhere with the rest of the hidden Hip-Hop mysteries. I will say I got to rap for him live in his office and the whole executive staff, and I was told that my live performance outshined the songs that we played for them. I was around Jay, Kanye, Fabolous and a whole bunch of major artists from 2004 to 2006 at parties, concerts, and any event I could get in. It was a blessing to be in that situation, and I know if I had the power of social media at that time, things would have been different. But I swear I'm good with the present...I promise.
How has the landscape of Hip-Hop changed since then in your opinion?
Social Media, blogsites and Hip-Hop websites have transformed the artist into a product that can be researched, valued and summed up with the click of a button. Nowadays you can create your own buzz with YouTube, and when someone hears your name they check to see how many views, listens and followers you have to decide if you're hot. Back then radio was the deciding factor, and we all wanted a record deal.
What are your pros and cons to being signed to a major label?
The pros are the exposure and having people with full-time jobs dedicated to making an artist relevant. The cons are the rules, guidelines, monetary split, and of course the expectations once a check is cut. Without a major deal an artist that gets high visibility is praised. But when an artist signs, he/she is supposed to be everywhere. That's why artists are being signed, then it's kept quiet until they get hot.
In this present environment, where DIY Hip-Hop rules, do you feel a structured label is still necessary?
A structured label is helpful, but not necessary. I think it would be wasteful to search for a label when you can directly reach fans. That's kind of why I decided to do
The Rent Tape Series
where I get fans to purchase my music directly from me with no iTunes, no labels, no middlemen.
Your style of Hip-Hop is very relatable. What is your formula when you write?
My formula is simply to listen to what people talk about and turn it into music. My new focus is to make songs that people can identify with. I don't want to be the fantastical rapper that tells you how much money he has. I use bravado but whether I'm touching on something deep or shallow I want the music to hit you in a way that it isn't preachy and it isn't harsh. So I drop songs like "Sallie Mae" about student loans and "The Milf Song" about dating single mothers, and "The Smelly Cat Song"...you can research that on your own. There's no real formula other than thinking about the listener first and trying very hard to suppress my large ego that wants to hear me rap for eight minutes straight without a chorus.
When you dropped The Calling this year, how did you feel you had grown as an artist?
I thought I had grown a great deal. I felt the subject matter was very mature. I wanted to capture the essence of the adult that doesn't know what he/she wants to with their life. It was my truthful journey so I wanted to touch on it. But I don't know if I got too involved in my own thoughts and ignored the fans on that one. Sounds confusing but honesty is my mission and that isn't always entertaining. So I would say I have grown more as a man than an artist with
The Calling
but I feel like these monthly EPs have helped me as an artist. 
You really utilize the internet heavily in your career, promoting yourself in webisodes, mixtapes, etc but you also promote offline. How do you feel that balance has helped you in your career?
Yes that balance is helpful. I started out in the streets doing shows, selling mixtapes, rapping on the corners and then the internet became my home. I can't say one is easier than the other, but I am happy I can use different ways to get my name out there. I even wrote an almost comedic bathroom book entitled
The Toilette Papers
(shameless plug).
What would you say is your biggest lesson learned in the game thus far?
My biggest lesson so far is to really know what you want out of this game. I have changed my mind a few times and before I wanted to be the biggest rapper in the world then I wanted to make lots of money. Now I want to make some change, do relatable music and make a living doing what I love. And honestly I'm not even sure that I love music as much as I used to. Hip-Hop is very diluted, the rules have changed, and excuses are stupid. So with all that said, whatever I really want to do, and whatever kind of music I want to make, I'm going to do it.
What's next for you?
Shastimuli.com is the home of the monthly series of EPs that I am dropping to pay my rent. I am putting my all into this music and selling it for only $5.
The Trueman Show
is doing very well and next is
The Emcee
. After this year, I would love to do another full-length album and maybe bow out gracefully and hit the silver screen hard. Or continue writing and start my artist development company and a family...maybe. Either way, I am so thankful to be alive, that I am able to use my voice and that people care enough to read this. I am truly blessed.
Are you sure you want to delete this comment?
live local music on
Enter your ZIP code to see concerts happening in your area.
Data provided by Zvents
follow msn music