Freestyle Round-Up: "Stay Schemin"
Every rapper you know schemes on Rick Ross's mixtape hit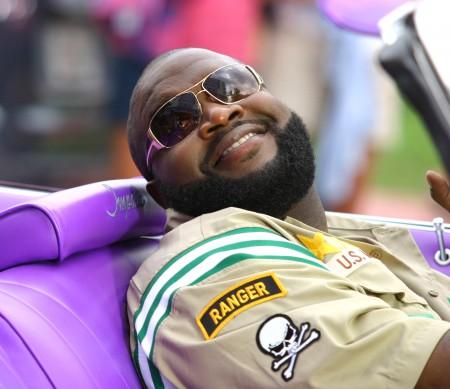 After appearing on Rick Ross's
Rich Forever
mixtape, "Stay Schemin" has emerged as the current beat everyone wants to jack. Much of the hype probably comes from the original version's role in the short-lived Common/Drake beef, but it the beat also has the perfect storm of elements that make it a perfect "everyone rhyme on this track" track for the Winter: midtempo, simple, and not about anything in particular.
Once again, Groove takes a look at some of the more popular re-imagined versions of "Stay Schemin," this time rating them on a scale of 1-to-5 "Maybach Music" drops.
1. Common
A necessary starting point, Common's street mix of 'Stay Schemin' has been the most attention-grabbing as it features more than a few choice words for Drake (referred to on the redesigned artwork as "The Hoe Ass Nigg%") whom Common believed has dissed him or something. By now, the highly publicized beef seems to have fizzled out in the typically anticlimactic fashion, but at least for a few moments in time, it was fun to hear Common pop off and act like a teenager again. 
The final product loses some points for the Destiny's Child sample at the end. At the time, Common contended that Drake seemed afraid to actually say Common's name on record, leading to "Say My Name" being sampled minus the "and calling me 'baby'" line. I admit that the implied romanticism of the line wasn't fully appropriate for the situation, but I'd go on to contend that the whole sample should have just been left out because of the implied terribleness.
Best Line: "I'm taking too long with the amateur guy/You ain't wettin' nobody, n***a, you Canada dry."
Rating: M-M-M-Maybach Music
2. Mike Posner & BlackBear
Less a freestyle and more an outright cover, Mike Posner and Blackbear deliver their (politically correct, thankfully) rendition of "Schemin" in the form of an acoustic cover. The duo takes the original and soften its edges into a less menacing Owl City-sounding track for a summertime picnic. Most of the work is handled by Blackbear on guitar, but Posner later adds a bit of synthesizer, keeping the track down to four simple elements that actually make the original hook feel more deliberate.
You have to admire the idea of this (not that acoustic covers of rap songs are exactly a new concept) but it's still kind of hard to listen to. While both are good singers, listening to them free-associate a melody on top of Ross's lyrics is fairly unpleasant. No one would ever really like this song if they didn't know the orignal—the mark of a so-so cover. 
Best Line: The beginning when Posner starts to sing and you think "this might actually be good."
Rating: Maybach Music
3. Lola Monroe
I'm not entirely sure who this woman is but I gather that she's a Video Vixen trying to crossover to music—you know how that usually works out.
This isn't very good but I clicked on the picture because I needed five of these and she was pretty. Moving right along...
Best Line: The URL to the "Images" section when you use Bing to try to figure out who she is.
Rating: Music
4. Meek Mill
Though Meek Mill is the only one on this list who's an actual member of the Maybach Music Group, he apparently missed out on the chance to hop on the actual original track. Making up for lost time, he released this video for his freestyle delivered from the back of a luxury SUV. I can't quite say that these verses should replace anything on the original version, but I suppose they serve their purpose.
Meek does fumble around with his lines a lot the further this goes, but I'll give him the benefit of the doubt and say that some of this was probably legitimate freestyle and therefore he gets a pass. 
Best Line: The part when he clearly gets lost and comes up with "My Flintstone makes your bed rock." I don't think that means anything but it was fun to watch it happen.
Rating: M-M-Maybach Music
4. Joe Budden
The latest entry in Joe Budden's current series of freestyles, Budden skips the street mix tactics and instead redoes the track outright. Joey does his usual thing with direct but well-thought verses that feel like they could fit on the real track but don't borrow anything significant from those MCs' flows. Joe even managed to trend on Twitter for awhile when the verse first dropped, so while it's not clear what they counts for, it has to count for something.
Besides being his usual self, Budden also scores some point for being the only one in this list who actually sounds like he should've had a place on the original (or an official remix, should one ever pop up). Not quite a classic, but a pretty good stab at what was just a mixtape track to begin with.
Best Line: "When it's normal for you, you ain't gotta play to win/I'm more concerned with how 'Melo gonna play with Lin."
Rating: M-M-M-M-Maybach Music
live local music on
Enter your ZIP code to see concerts happening in your area.
Data provided by Zvents
follow msn music