RaVaughn Rouses the Crowd with Candid & Catchy R&B
Ne-Yo's newest protege is promising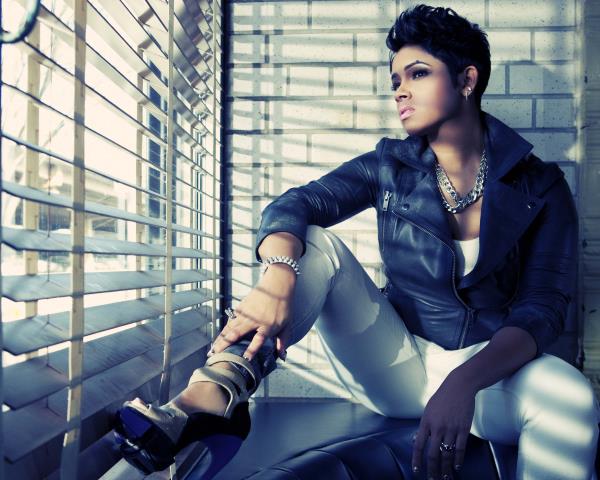 Glitter and gold became more than just a phrase last night (Feb. 19) when singer RaVaughn — Columbia Records & Compound Entertainment's rising star, and Ne-Yo's newest protege (who he recently dubbed the "voice of women") — took the stage at New York's The Darby decked in just that. A shimmery sweater, painted pants, and no less than four bangles on each arm and two chains around her neck helped catch the audience's attention, but it was her voice that held it.
Backed by a four piece-band, RaVaughn wasted no time charming the crowd with a charismatic rendition of the in-your-face anthem "It's Over," during which she mocked and waved goodbye to the tune's imaginary inspiration: "Excuse and disregard if I make you uneasy or come off hard / My only intentions are to let you know it's over… / I could be a cold-hearted b—h, but instead I'll just say this: it's over." (But before you lump RaVaughn in with the likes of other bitter "busting window" types, the song goes on to detail why she's "too cute" to stoop so low). Complete with a rousing, staccato chorus of which every syllable begs to be sung along to, the night was off to a promising start.
RaVaughn then admitted to the crowd, "I'm a bit of a hopeless romantic, I love love; the only catch is
this is not a love song
." Playing to the throwback retro sounds of the tune, she grabbed a mic stand and sung and swung with it with attitude until, nearing the end, she tore the mic off and kneeled at the edge of the stage, mere inches from the crowd and, like a seasoned star, showing not a bit of discomfort. 
It had become clear that RaVaughn's candid nature and forthright frankness is (and will be) her ultimate appeal, but her honesty was no more evident than when she pulled a stool to the front of the stage and, backed by simple guitar strumming, began an unconventional ballad, but one that's bound to become a fan favorite: "I'm not your f—n' best friend, I've been sitting on this bench too long while you're playing with these basic, fake chicks… / If you open your eyes and give sense a good try / I'll be all you need and more than a f—n' best friend."
Already a highlight of the night, RaVaughn finished the song strong by calling the audience out for not reacting to her request, proving once again she's not shy: "I dunno if the mic is working, but I asked ya'll to clap! I need the love!"
And though Wale wasn't there to spit the flirty verses he added to her Jerry Wonda-produced debut single "Better Be Good," RaVaughn took on the track solo to close out the night. With its funky strings, simmering cymbals, and drum-based beat, we were all clapping by then.
RaVaughn's debut album "Love Always" is due this summer.
[Follow @daniellesaid]
live local music on
Enter your ZIP code to see concerts happening in your area.
Data provided by Zvents
follow msn music