Get To Know: Joey Bada$$ (Part One)
At 17, he's out to take over the game.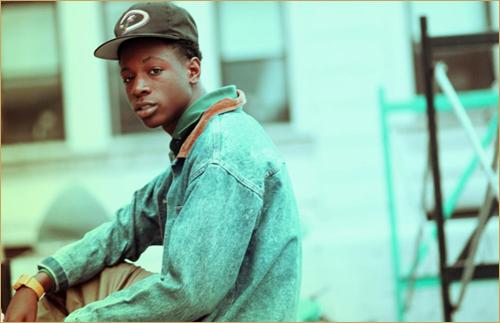 Who:
Joey Bada$$
From:
Brooklyn, NY
Why You Should Get To Know Him:
Because veterans cosign him, as he's on his way to becoming one.
For many, Joey Bada$$ is exactly what New York Hip-Hop was looking for: young, bold, gritty, and hyper lyrical. The 17-year-old wordsmith caught the attention of music industry vet Jonny "Shipes" Shapiro - most recently known for kickstarting the careers of artists like Nipsey Hu$$le, Smoke DZA, and of course Big K.R.I.T. Jonny saw something in Joey, and the world did too upon the release of his introductory track "Survival Tactics" featuring his fellow Pro(gressive) Era posse member Capital STEEZ. Joey Bada$$ is arguably the next to carry New York City on his back. Compared to the likes of an early Nas, Joey is starting at a young age and will have what most hope will be a long, fruitful career. Checking in with Joey in Part One of his GTK interview, he explains his journey thus far, his recent release of the
1999
mixtape, and how MF Doom sparked his fascination with Golden Age Hip-Hop.
Hey Joey! How are you?
I'm good, I'm good.
So far you've been having one hell of a year, huh?
Yeah, definitely! It's been a great run thus far, and I don't plan on stopping any time soon.
It feels like as soon as you dropped "Survival Tactics," people started going crazy.
Yeah that was definitely a great feeling. It's funny to compare where I was then to where I was now because after I dropped that video, I was like, "Oh shit! People actually started paying attention to me! It can't get any better than this!" And then it got better than that.
Were you surprised at how many veteran rappers were co-signing you so quickly?
I mean, not really. Not really. I've been waiting for that, you know? For a long time so, it was just not really surprising. It was like, "What took you so long? About time you guys noticed!"
How long have you been rhyming?
Not to sound cliché or anything but like, since birth.
What was the first rhyme you wrote?
Uh, I'd rather not share that. I was in like, first grade. It was like, you know, some silly shit.
Was it about a girl or was it about not wanting to like, eat dinner?
Nah, it was just about randomness! Like just random things that's on a six-year-old's mind. Like wrestling and things like that.
So at what point did you kind of realize that you wanted to take this seriously?
When I got to about ninth grade.
Really? What was the spark for that?
Well because the high school that I go to, I actually got in there for acting because acting was my initial plan. That's what I really wanted to do. But when I got to my high school, there were a lot of rappers there and at the time there was a popular rapper I'm sure not if you're familiar with…DyMe-A-DuZin?
Yeah, I know of him.
Yeah, DyMe-A-DuZin. So once I seen him there, like he was doing his thing and he was in school and I was like, "Yo! I could do it too!" and I just did it.
You went to Edward Murrow High School right?
Yeah, I still go there now. I'm not sure if I'm going to go back next year. I'll probably do home-schooling.
What's that like walking through the hallways now?
I mean, it's summer time now so I wouldn't know what it'd be like NOW but for the last few weeks of school and everything? Uh, I mean, there was a lot of people like, "Oh hey, I saw your video!" And then of course there's a lot of people that knew you before and now trying to be your best friend, they're just like that. The usual.
How did you have such taste in 90's Hip-Hop and Golden Era stuff? For your age, nobody goes that far back listening to artists like that.
I mean, it was just...that all started when I got to high school. I met this group of friends that just opened my mind to a lot of different sounds and aspects of the world, music being one of them. My homie Capital STEEZ, he put me on to MF Doom, and then after that when I found out about MF Doom, I was like yo, I didn't even know cats was rapping like this. I was so used to the radio shit that I was hearing. So when I heard MF Doom, I just started exploring it. I started catching up on Hip-Hop and everything.
What was the first Doom song you heard?
First Doom song I heard was probably "Hoe Cakes."
When you put out 1999, it was kind of interesting because you had an updated flow but you were taking 90's beats and stuff. You listen to the Golden Era of Hip-Hop and stuff like that but your rhymes are still very up to date. How do you find that balance?
The balance? I mean, I don't attempt to make 90's sounding music. I just like the boom-bap sound, and that's just the type of beats that I fell in love with, but all my topics are current events and just things that are really real. Things that I experience and stuff like that. So I mean I guess that's how I keep the balance. It's just not really aiming to do something from an era that you're not from, it's just that you're doing what you want to do.
How did you link up with Va$htie for the video for "Waves"?
Me and her have the same manager so we were introduced through our manager and we just had the chemistry and it just worked out.
What exactly is Pro Era? Is it a crew? Is it a label?
It's both. It's a crew, it's a label, it's everything.
Who are some of the artists who are part of Pro Era? I know Capital STEEZ but who else is there?
There's CJ Fly, there's Dyemond Lewis, there's Chuck Strangers, Nick Caution, Kirk Knight, T'nah Apex, A La Sole, Dessy Hinds, Rokamouth, the list goes on. There's a lot of us.
People are calling Pro Era the Odd Future of the East and they're calling you the Tyler, the Creator/Earl Sweatshirt. How do you respond to that?
I don't know, I actually haven't heard those comparisons. I've heard the Nas comparisons.
Oh yeah, definitely. Not even lyrically, I'm talking just in terms of the crew.
Ah, nuts. That's not even us. I mean but you know, when people are introduced to something that they've seen before, of course they're going to compare it to what they've seen first. That's probably why when Odd Future first came about, they got those Wu-Tang comparisons and things like that. But I don't really care. People are going to talk. The music isn't the same, the lyrics sure aren't the same and the subject matter sure isn't the same so I don't even let that bother me.
So, are you feeling the success? I know you said you feel like it's taken forever, but has this past year felt like it's been going really quickly?
HELL yeah! I mean it's like shift after shift after shift. Things just keep happening. I would often come home after a long day of doing shit and then I just start to think like, "Yo, what does the future have in store?" Like every day I find out more and more, you know? There's like no point of turning back right now. It's too late.
How did you go from going to school and going to class and just leading a regular life to all this stuff happening? How was that switch?
I don't know, it just kind of shifted right before my eyes. I don't know. Before I wasn't really paying attention to a lot of things that were happening. Like I would drop a song and I would see good feedback, but I really wouldn't take it as nothing. It was just like alright, just keep making more music. And then I dropped the tape and there was like all these household names co-signing me and things like that. So it was just like wow! But I don't know, I guess what it really is that's going to really help me notice the change is when people come up to me in the street and things like that. That's what's really getting to me sometimes. It's like damn yo! I really mean something to these people! Like before it was just like I would just be walking, minding my business...nobody would ever say anything to me. Now I can't go to no location without being known.
Check back next week for Part 2 of our Get To Know interview with Joey Bada$$
live local music on
Enter your ZIP code to see concerts happening in your area.
Data provided by Zvents
follow msn music