John Legend Asks "Who Do We Think We Are?"
The answer is, a bunch of half-naked partiers apparently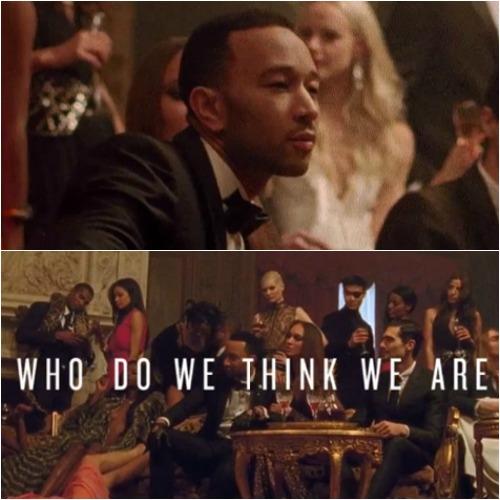 "When was the last time you got to be 100% real, ya'll?," we're asked (well, moreso demanded an answer from!) on the intro to John Legend's latest single, "Who Do We Think We Are?" The voice continues, "I don't want ya'll holding back nothing!" Ok, ok, we won't. Now, can we get to the song now? Because it's a good one.
Backed almost entirely by a sample from Jean Knight's classic '70s hit "Mr. Big Stuff"—the ever-distinctive "o-oh, yeah!"—some piano tinkling and a big drum beat, Legend sings smoothly, as he's been known to do, about the love-hate relationship he has with the lavish lifestyle he and his lady are living: "The drinks, the minks, the jewels, the house, the cars / Why'd we ball so hard? / Yeah, I'm not afraid to fly / Here we are, in the air, barely breathing / And we're not afraid to die."
Though, on the lyrics, Legend appears to be lamenting about the internal struggle that comes with being rich and famous, the video is a different story. As the host of a fancy party in a grand (but minimally furnished) mansion, he doesn't seem so bothered anymore when he's draped, quite literally, in models (one of which is Lisa Jackson from "America's Next Top Model" and is
not
his real-life funny-girl model fiancé Chrissy Teigen—tsk, tsk).
Mind you, many of these women consider clothes to be snakes and pearls. And they smoke cigarettes and drink brown liquor. And writhe around on what I can only assume are very expensive flower petals, animal rugs and marble floors. And that's all the video is, really. So when Legend asks, "Who do we think we are?"—and he does it over and over and over again—you can't help but scream "I don't know!" because you feel like you're failing to solve the riddle.
Some entertainers even come in to ballroom dance for Legend and his guests, but no one seems to be paying attention. And Rick Ross comes too to take over the second verse of the lush, Kanye West and Dave Tozer-produced track, but speaks more of the same: "Pink champagne / black Rolls Royce / Eggplant double-breasted suit from Tom Ford / Bon voyage, left haters in the fog." Ah well, maybe us regular folk will never understand fame and its perils, but for now, we'll keep pressing play in the meantime.
[Follow @daniellesaid]
And
here
is a nipple-friendly, NSFW version of the clip if that's the sorta thing you're into.
John Legend's album "Love in the Future" is expected this Spring.
live local music on
Enter your ZIP code to see concerts happening in your area.
Data provided by Zvents
follow msn music