R&B And Hip-Hop Stars "Get Schooled"
Common, Big Boi, Keri Hilson and Ciara take part in the Get Schooled National Challenge and Tour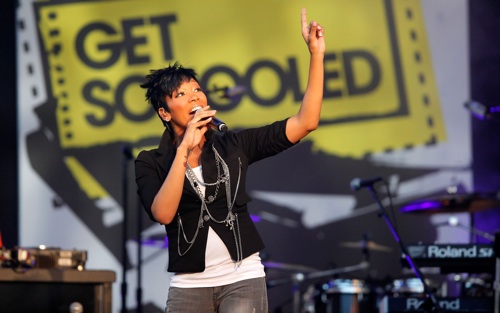 Ludacris, Common, Big Boi, Pharrell, Jay Sean, Keri Hilson and Ciara are encouraging kids to get schooled... but in a good way. A host of celebrities have teamed with the Get Schooled Foundation for the launch of the Get Schooled National Challenge and Tour.
Aimed at engaging students and their families to help improve high school graduation rates, college readiness and ultimately raise college completion rates, the tour has already hit New York, Philadelphia, Memphis, Dallas and Chicago. The tour is also slated to visit Los Angeles, San Francisco, Seattle, and Denver. Check for tour dates below.
The Youth Summits will engage young people in a conversation about how they view education, lay out the educational challenges that faces our communities, and ask them to
step up
to the challenge.  In each city, the Youth Summits will be followed by two days of Get Schooled
Bus
events hosted by local celebrity education ambassadors and will include a variety of activities to engage people in the
Get Schooled Challenge
.  
"Education is the ultimate challenge," said Ludacris via a statement. "I know from experience that sometimes it is tough to get inspired, to take control, and to have the discipline to see your education through.  I'm excited to join other artists and the Get Schooled Foundation to help capture the attention of students and reinforce the vital message that education is important and a necessary tool for life."
Get Schooled has also formed partnerships with school districts and non-profits, like the United Way, that are eager to engage America in the effort to turn the tide and significantly increase education levels.  AT&T's U-Verse, Time Warner Cable, and Comcast are the local media partners, donating air time in the Get Schooled tour cities to run public service announcements that promote the Get Schooled Challenge.
Anyone who commits to "stepping up" to the Get Schooled Challenge online during the week that Get Schooled visits their city, will be eligible to win a free laptop. Participants can enter to win by visiting the Get Schooled website for each city i.e. www.getschooled.com/​NewYork

Get Schooled National Challenge and Tour Schedule:
Seattle              October 29 – 31
San Francisco    November 5 – 7
Los Angeles       November 12 – 14
Denver              November 19 – 21
live local music on
Enter your ZIP code to see concerts happening in your area.
Data provided by Zvents
follow msn music