Get To Know: GLC
Making good music even when he's not on G.O.O.D. Music.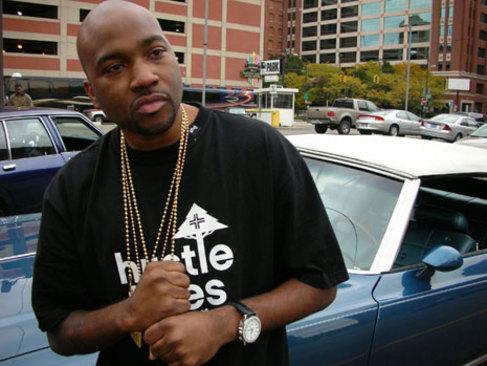 Who:
GLC
From:
Chicago, IL
Why You Should Get To Know Him:
Because he invented his own genre, Ism music.
Anyone who's heard Kanye West's "Spaceship" and "Drive Slow" knows who GLC is. The Chi-Town native stood as one of the most promising figures in Kanye West's original G.O.O.D. Music cast. With a combination of swag and lyrical dexterity, GLC rose about his freshman class at K West High and has since jumpstarted his movement. That's not to say "Gangsta Legendary Crisis" ever really took a break. For the past seven years, GLC's been cranking out mixtapes, developing a style he now refers to as "Ism" music. Checking in with GLC, he talks his upcoming project,
Fellowship & Congregate
, and what almost a decade in the game has taught him.


What would you say is the difference between the GLC of 2004 and the GLC of 2012?
I'm a lot wiser - my mackin' evokes images of the stratosphere, and my pimpin' is more precise as I've created my own genre of music: Ism music. I give life's lessons mixed with mackin' enlightenment.
How do you respond to the new generation of Hip Hop fans who consider you to be a "new" artist?
I appreciate it. It is a blessing to have people connect with your ideologies and embrace them. Whether they've known from the jump or recently joined the fellowship, they are welcomed.
What have you noticed has changed about Hip Hop from when you first started?
The digital/viral age is at the forefront of how the music reaches the audience. I've also noticed the fashion sense of Hip Hop has changed, and the feminizing of the culture is embraced by men. I teach that it's cool to mack and express your desire for accumulating women friends, and being a man is the shit!
What is your current affiliation with G.O.O.D. Music, if any?
Cathedral!
You've remained consistent with your mixtape releases, but last year you really went in. How do you feel that helped you?
I feel as if it was a blessing, as I witnessed and felt the effects of the Ism being embraced!  New people become believers everyday as we continue to grow & develop.
When can we expect an official album?
I'm dropping a 4-song EP entitled
Fellowship & Congregate
with DJ Ayres in a week, and the album this summer.
Do you feel "Flight School" didn't get the leverage it deserved? What caused that do you think?
I believe it didn't because it's a great record and the internal support that was needed to push it to the masses was nonexistent.
What would you say is your greatest lesson learned in this game?
The game is smoke & mirrors. Just be a great magician and make magic.
What can we expect next from you?
You can expect more episodes of my cartoon featuring @TatorchipPimps, a few new projects in the works, next up -
Fellowship & Congregate
. The first single, "Angry Birds" debuted on TheFader.com a few days ago. I shot a pilot for a television show entitled
ATL
where I play the head of the mob. I have new T-Shirts dropping this spring also. To keep up with this Ism follow me on twitter & instagram @GLCtheism, on Facebook at GLCityMusic & on my site at GLCityMusic.com
If you weren't here doing this, where do you think you would be?
Somewhere on an island with beautiful women embracing my concept, eating delicious veggie food, blowing good green, and spreading this ism with a fresh pair of Jordans on.
Are you sure you want to delete this comment?
live local music on
Enter your ZIP code to see concerts happening in your area.
Data provided by Zvents
follow msn music