Alicia Keys Talks Her Past, Present, and Future
The Soulstress took over NYC's 92Y and had plenty to say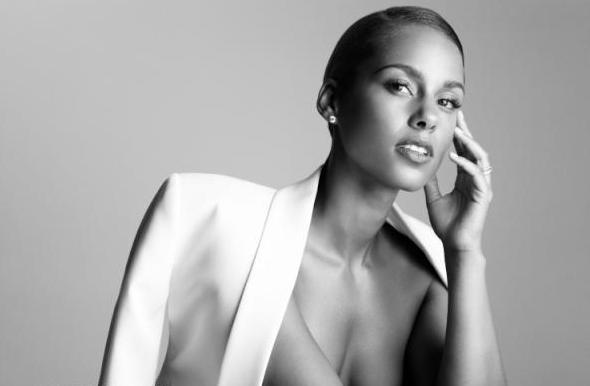 "It was called Hell's Kitchen for a reason," Alicia Keys says of her native New York City stomping grounds, adding that it was the "opposite of Disneyland." The 14-time Grammy Award winning
singer/songwriter/pr​oducer
sat before a packed auditorium at NYC's 92nd St. Y for an intimate discussion as part of 92Y's "Talks" series. Keys was the first to kickoff the Fall season of discussion subjects. Her interviewer, Jonathan Tisch, is an author, talk show host, Chairman of Loews Hotels, as well as a co-owner of the New York Giants.
Keys just wowed the MTV VMA's audience last week, performing the title track to her upcoming 5th album
Girl On Fire
, with Nicki Minaj donating a verse and Olympic Gold medalist Gabby Douglas back-flipping on stage (Alicia requested that Gabby perform with her that evening). On the brisk evening in the Upper East Side of Manhattan, though, Keys was calm and collected as if she hadn't just landed from Los Angeles a day or two prior. The discussion with Tisch covered a wide range of topics – from Keys' early days to what the next few months have in store for her. Her fascination with the piano began at six years old, and she cites her biggest break as being given a piano from a family friend a year later. A piano teacher in her building gave her lessons, and years later a star was born. At 11, little Alicia wrote her first song dedicated to the passing of her grandfather. She received a scholarship to Columbia University at age 16, but 4-6 weeks later left for a different Columbia…Columbia Records. That record deal never reached its full potential, and shortly thereafter she encountered her "godfather" Clive Davis and became the flagship artist of J Records. We all know how the rest of the story went.
Alicia shared some poignant anecdotes about her life: she was almost called Alicia Wilde until her mother advised, "You sound like a stripper" (she traded the Wilde for Keys when a label exec at Columbia told her he had a dream that he lost his car keys and it inspired her to muddle over the definition of keys). She was driving in a Mazda 626 on the BQE (the highway connecting Brooklyn to Queens) with longtime friend Erika Rose (now the President of her company), when NYC's famed radio DJ Funkmaster Flex premiered her street single "Girlfriend." With today being the 11th Anniversary of 9/11, Keys recalled where she was that fateful day in 2001 – headed to Washington D.C. where the Pentagon was also attacked. When Jay-Z invited Alicia to join him on the colossal New York anthem "Empire State Of Mind," he asked her "Do you think it's
too
New York?" Several of these stories made her discussion with Tisch both charming and amusing.
Some tales may sound familiar to hardcore Alicia Keys fans. However, one thing is definitely new in the life of Ms. Keys: she's a wife and a mother now. Her son Egypt puts a huge smile on her face at the mere mention of his name. She sang some of her favorite lullabies to the audience, as she discussed potty training her near two year old and gushed about what a great father husband Swizz Beatz is. "Now that I'm a mother, I respect my mother on a whole other level now," Keys explained, adding that as a child she carried a knife (or "shank") to stay safe and when her mother found it, she wanted to move away. Alicia didn't understand why back then. Now she gets it.
In Keys' near future? Honoring Oprah this year at her annual Keep A Child Alive Black Ball, plus producing and scoring the independent flick
The Inevitable Defeat Of Mister and Pete
.
Like her recent street single suggests, it's a new day for Alicia Keys. As she sat merely blocks away from where she was raised, it's clear that while she's traveled the world, she's still a New York City girl at heart. Before and after the talk, Keys stopped to pose for pictures and sign autographs for fans. After all, she may be a girl on fire but she still keeps an empire state of mind.
Are you sure you want to delete this comment?
live local music on
Enter your ZIP code to see concerts happening in your area.
Data provided by Zvents
follow msn music