Get To Know: Yo Gotti & Zed Zilla
...putting Memphis on the map, one rent bill at a time.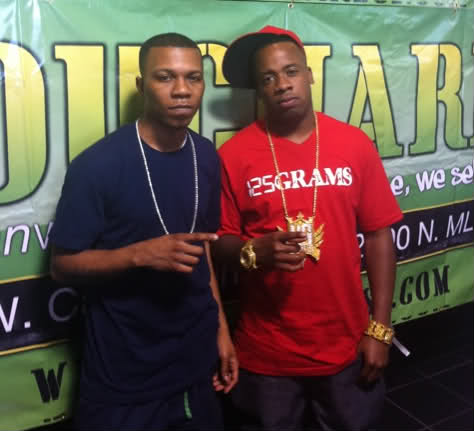 Who:
Yo Gotti and Zed Zilla
From:
Memphis, TN
Why You Should Get To Know Them:
Because one already gets 5-Star Chicks and the other has his rent due.
By now you already know about Mr. Yo Gotti. The Memphis bred rapper/entrepreneur has been around for years, but hit a milestone in his career with the track "5-Star Chick". The remix to that track featured a few "5-Star chicks", including one Nicki Minaj whose verse arguably boosted the female emcee to the next level of her career. Since then success has been on the rise for Gotti, who just recently launched his Cocaine Muzik Group label signed a fellow Memphis native by the name of Zed Zilla.
It would seem as though local love comes with the territory. However, in the Memphis rap scene, the North and the South sides of Memphis are equally separate and unique within themselves (like boroughs in New York City). Yo Gotti (from the Northside) signing Zed Zilla (from the Southside) is unifying two separate regions within the major city. "By us being from two different sides of Memphis and being on a project together and him pushing my project, it was a big thing for the city," says Zed Zilla. It can only aid in the progression of putting Memphis rap solidly on the map.
Don't get it twisted though, Yo Gotti didn't pluck Zed Zilla from obscurity and randomly sign him to CMG. Zed's been pounding the pavement for a while, delivering mixtapes most notably with a rent-inspired theme (
Landlord
, etc.). His next mixtape
Rent's Due
arrives on October 18th hosted by Florida's Bigga Rankin, and is in Zed's words his biggest project yet. "We really put a whole movement behind putting the project together," Zed says of the mixtape. The rent theme will continue with tentative future titles including
Late Notice
and
Eviction Notice
as well. "You have to have a strong work ethic in this game," Zed says. "You have to have more than the music and the flashin'. Everything has to be on point from the storytelling to the numbers."
Zed met Gotti one fateful day in Memphis when Zed Zilla was performing. Gotti heard the new talent and approached him after the show. "It's been crackin' ever since," Zilla says.
After holding down Memphis for years, Yo Gotti feels the time is right to unveil his Cocaine Muzik Group. "CMG is the movement. It all started when I did
Cocaine Muzik Vol. 1
," Yo Gotti recalls. "People want more from it now, from merchandising to other artists so that's what we're gonna give 'em." While working with artists like Zed Zilla, Yo Gotti will be delivering his first major debut
Live From the Kitchen.
The project boasts collaborations from Rick Ross, Gucci Mane, Lil Wayne, Nicki Minaj and 2Chainz. And most importantly, I've got me," Yo Gotti exclaims. "There's alot of Gotti on there."
With a new label and budding roster, it seems like Yo Gotti and Zed Zilla will be reinventing the wheel for their region of rap. "It's dedication and staying focused," Gotti says. "Every day we try to build and get farther." So with a label name like Cocaine Muzik Group, does he feel he will be limited? "All I know is I've made music that millions of people like and have made millions of dollars doing it," Yo Gotti says. "So I must be doing something right."
live local music on
Enter your ZIP code to see concerts happening in your area.
Data provided by Zvents
follow msn music