Rihanna's "Diamonds" is Equal Parts Dramatic and Dull
But also completely unexpected and, for that, we applaud her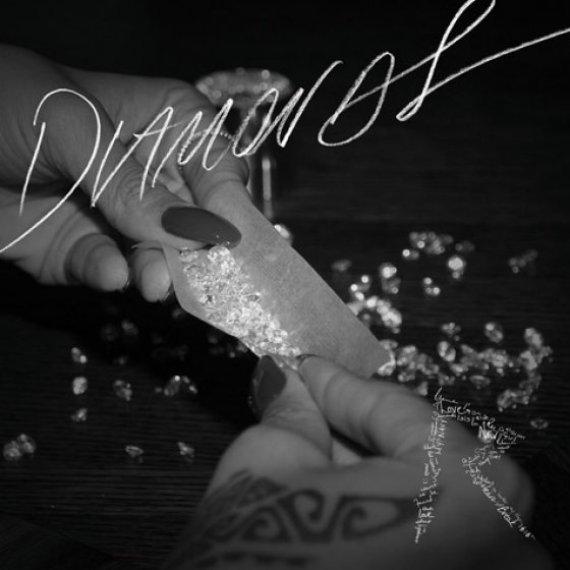 This time last year, Rihanna was debuting "We Found Love," the lead single from her sixth album "Talk That Talk," and we were giving
high praise
to its hypnotic house rhythm. Now on the brink of releasing her still-untitled seventh record, she's delivered "Diamonds" to the masses—but its title won't likely be a testimony to its sales certification.
For what it's worth, Rihanna's ever-changing hair has always been a pretty good indication of the sweeping sound listeners can expect from her upcoming LP - she shaved the sides of her head for the sinister reverberations of "Rated R"; her fiery red locks ushered in the
"Loud"
era; and now, an
uncharacteristically​
subdued 'do (of a no-nonsense
cropped cut
) may be giving way to Rihanna's most mature melodies ever.
"Diamonds" is a big detour from the overwrought raunch that populated "Talk" and the catchy club-ready records Rihanna's proved she can churn out with casual ease. Instead, it's a Sia-penned, pulsing power ballad that finds her singing in a slower and lower register we haven't yet heard. And though Rihanna opens the track with a purring chant that recalls Lana Del Rey's entire catalog ("Shine bright like'a diamond"), she eventually charges through the tune with indisputable distinction.
Soaring strings and retro synths back Rihanna's dramatic reflections on love: "I knew that we'd become one right away / Oh, right away / At first sight, I felt the energy of sun rays / I saw the life inside your eyes." The production is uncluttered, leaving Rihanna to her own devices (see: vocals) to carry out convincing vulnerability. And she does. She's far from the intimidating alpha-woman we're used to hearing, and impressively more endearing than ever—even wailing at the end to show commitment to not just her love, but her new contemplative character.
And therein lies the problem: no matter how many times she repeats the lyrics, it still sounds as if Rihanna's playing a part that she'll ditch by the time she hits the promo circuit.
"Diamonds" isn't sexy, it's solemn. And it's not perverse (except for those few mentions of "moonshine and molly"), it's pensive. And for fans of her (usually) foul nature, yes, it's a complete bore, but upon further listen, it's still pretty beautiful.

[Follow @DanielleSaid]
Are you sure you want to delete this comment?
live local music on
Enter your ZIP code to see concerts happening in your area.
Data provided by Zvents
follow msn music