5 Things You Need to Know About Singer Leah LaBelle
Catch up!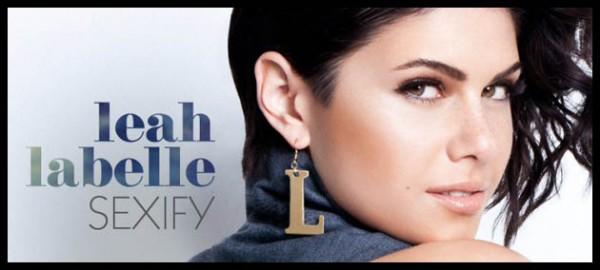 Last week, a "Welcome to NYC" party was thrown for a Toronto-born, Seattle-bred young woman named Leah LaBelle -- of which Mariah Carey, Pharrell and L.A. Reid were all in attendance.
Proof!
Many of us regular folk were left wondering why we'd never received such royal, red carpet treatment upon our own arrival to the big city; we were left wondering what made Leah so special.
But her journey is no secret, and like Jessie J and Justin Bieber before her, it was chronicled on YouTube. Had you done the smart thing of frequenting and fanning out over her channel, then you'd known that her 3 years-worth of pitch-perfect covers (from
Etta James
to
Jazmine Sullivan
) just landed her a well-deserved on Epic Records' roster.
Here's what you need to know...

There is, sadly, no relation to Patti.
In fact, Leah's real last name is Vladowski. And she's Bulgarian. And like so many children who want to follow in their parent's footsteps, her musician mother and father were stars in their own right, fleeing their communist country in 1979 to tour Western Europe with Bulgarian pop music groups Sreburnite Grivni and Tonika.
If she looks familiar, it's because she is.
Leah appeared as a hopeful on the third season of
American Idol
back in 2004 where her shaky vocals were easily overshadowed by the likes of little-known singers Fantasia and Jennifer Hudson. She auditioned with Whitney Houston's "I Believe in You & Me," and sang a few renditions of Al Green's and the Supremes' hits before ultimately becoming the first contestant to advance to the finals via Wild Card…and then get eliminated in the first week of the finals.
She's got friends in high places.
After seeing her
"Energy"
cover on YouTube, Keri Hilson hired Leah as a back-up vocalist and invited her on tour with Robin Thicke. Leah then went on the road with Jordin Sparks, as well as Eric Benet, getting her own spotlight every night when it came time to step in for Tamia and
duet "Spend My Life With You."
Her Twitter bio
reads that she's now "under the wings of Pharrell & Jermaine Dupri." And she's even been spotted with a
Jonas brother
.
Her musical preference may surprise you.
She's steeped in R&B now, but at 17, Leah
admitted
that the first concert she ever went to wasn't of one of her idols (Beyonce and Lauryn Hill, by the way), but the joint-performance of the then-popular Hot Boys, Ruff Ryders, DMX, Jadakiss, Lox and Eve. She also revealed that even her closest friends would be surprised to learn that she owned albums by DC Talk, and Heather and Kristen, or, in her own words "Two old Christian groups I'm sure almost nobody has heard of."
She has good intentions.
After all, her debut single "Sexify" is practically an instructional manual detailing how to keep your man at home. But it could also serve as a cautionary warning, for if you ladies don't heed her advice, she seems perfectly capable of swooping in and fulfilling the role herself.
Listen below.
live local music on
Enter your ZIP code to see concerts happening in your area.
Data provided by Zvents
follow msn music