Snoop Lion Testifies 'No Guns Allowed' on New Tune
The declaration is inspired by recent events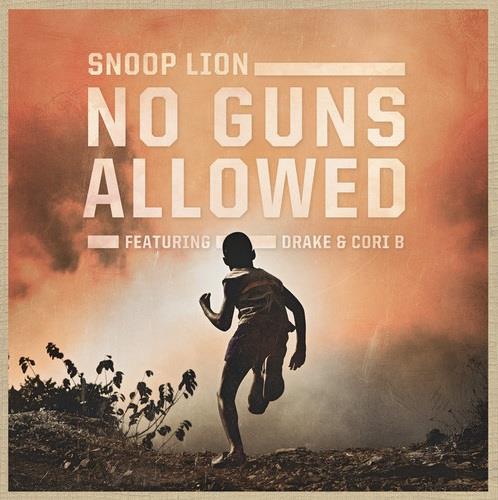 Remember when Snoop Dogg was accused of murder? Or when he was found in possession of a firearm in both 1993
and
2007? Well, he'd like you to forget about all that. As the reincarnated Snoop Lion, new-found member of the Rastafarian movement, the longtime rapper has publicly condemned gun violence on his new single "No Guns Allowed."
Kicking off with the low-pitched plucking of an upright bass, followed by some syncopated calypso strikes, Snoop Lion sings monotonically in his best artificial accent, denouncing those who let money make their world go 'round. A family affair, the reggae track features his wife Shante on background vocals and his daughter Cori B., who can be heard on the chorus sweetly singing the titular plea, but Rihanna wouldn't have sounded out of place here either (especially since she just delivered the similarly-titled
and
-sounding "No Love Allowed" on
"Unapologetic"
).
Produced by Major Lazer (along with Ariel Rechtshaid and Dre Skull), the slow-moving song is a noted detour from the digitally-driven sounds that once incited daggering at dance parties. This time around, they're hosting a more feel-good fete as the daddy-daughter duo sing: "We're gonna have a free-for-all / no fights / I wanna get lost in the crowd / in hear tonight / I need to hear my thoughts / turn the music up loud."
Drake makes a short but significant cameo, dedicating his verse to two real-life partygoers who lost their lives in his hometown of Toronto last summer when gunfire broke out at a barbecue. "Bullets do not choose the victim / It is the shooter that picks 'em," he spits from his soapbox.
The song may feel a bit like a pseudo sermon, especially when coming from a guy who once gained fans and fame for sipping "Gin & Juice," but considering the U.S.' perpetual plague of gun violence, you can't knock Snoop Lion for trying to rally those same followers to now partake in a different potable, one of peace. He told Piers Morgan, "I kept hearing about all these school shootings and these people getting guns in their hands and not knowing what to do with them and just going on a rampage, so it really touched me and affected me to where I wanted to say something." Props.
Snoop Lion's forthcoming album "Reincarnated" is due April 23.
[Follow @DanielleSaid]
live local music on
Enter your ZIP code to see concerts happening in your area.
Data provided by Zvents
follow msn music