Get To Know: BBU
A Big, Bold, Unit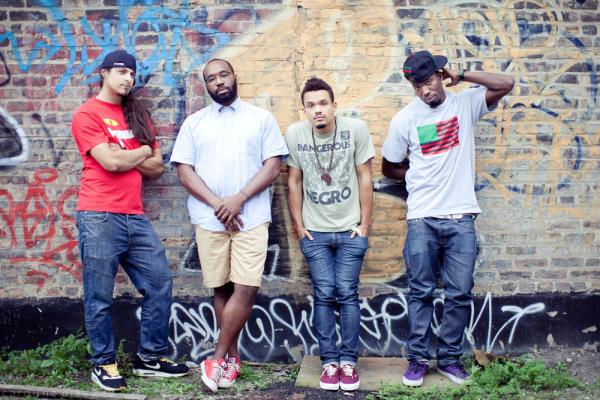 Who:
BBU
From:
Chicago, IL
Why You Should Get To Know Them:
Because while Hip-Hop activism is at an all time low, BBU is delivering Revolutionary Juke Music.
The meaning behind BBU's acronym is
Bin Laden Blowin Up!
It's also
Black, Brown, and Ugly
. Those are bold words for a four-person juke infused Hip-Hop collective, but they somehow make it work. The group - comprised of Epic, Illekt, Jasson Perez, and DJ Esquire, craft cross-genre message music resting on a sturdy Hip-Hop foundation. Their debut
Fear Of a Clear Channel Planet
sparked the love movement, while the track "Chi Don't Dance" pulled the wagon to Pitchfork's ears, calling it one of the Best New Tracks of 2009.
Having toured with the likes of Mos Def, J.Cole, and MF Doom, the quartet just released their follow-up mixtape
bell hooks
via Mishka and Mad Decent and mixed by DJ Benzi. The track "The Hood" with GLC released last month in heavy rotation. BBU are on a mission to bring you "Revolutionary Juke Music," i.e. message music you can dance to. MSN's Groove got a hold of Epic and Illekt two give us four breakdowns of the group. Check out what they had to say.
The MessageEpic:
Some folks make music about where they want to be - those wants can range from in a penthouse driving a Lambo to World Peace - we land some where in the middle. We are Reagan babies, children of the corn (LOL) that got lost in the field and managed to find a way out. Now that we made it out we don't judge those that are still lost in it, we make music to try and reach em. The message for BBU is simple: make human music and hopefully humans will relate.
InfluencesIllekt:
We are influenced by everything from Outkast to Three Six Mafia, to the Pharcyde, Bone Thugs-N-Harmony, Do or Die. Of course Pac, Biggie, Big L, Big Pun, David Bowie, NIN, Nirvana, Jeezy, some Pantera, Arcade Fire, Refused, At the Drive-In, Queens of the Stone Age, NWA, Public Enemy and dead prez, Joe Budden. Then just of course dope juke and b-more beats.
ProductionEpic:
Production is always hella random. In general, we just grab beats that grab us. With the
bell hooks
project we worked with five producers: Stefan Ponce, Tony Baines, Schwartz, Montana Max and Classick. All of them are extremely talented and can produce any beat from back pack boom bap to juke that juke that. Sometimes we feel like telling a story, so we pick a slower beat some time we feel like raging out, so we pick a more drastic challenging beat and sometimes we feel hella lyrical and want to pick something to spit to.
Independent PromotionEpic:
For a long time we had no promotion. To be real, MySpace and mass-texting were our only means of online promo. Back in the day, most of our promo came directly from our live shows, which really got our name up in the local market. It wasn't until one of our first managers Charlie got us into the studio to recorded "Chi Don't Dance" and then took the track and put it into the Discobelle drop box. It went up on Pitchfork about a month later and after Pitchfork it was all over the place. We were all like, is this for real? For the
bell hooks
album we are working with Audible Treats out of New York for press and they are super legit. At the end of the day, promo can put listeners in front of you, but if you ain't saying nothing, or you ain't moving people, then what's the point?
Follow BBU on Twitter:
http://twitter.com/i​tsbbu
live local music on
Enter your ZIP code to see concerts happening in your area.
Data provided by Zvents
follow msn music