Why You Should Tune In to Frank Ocean's "Channel Orange"
Gather 'round for storytime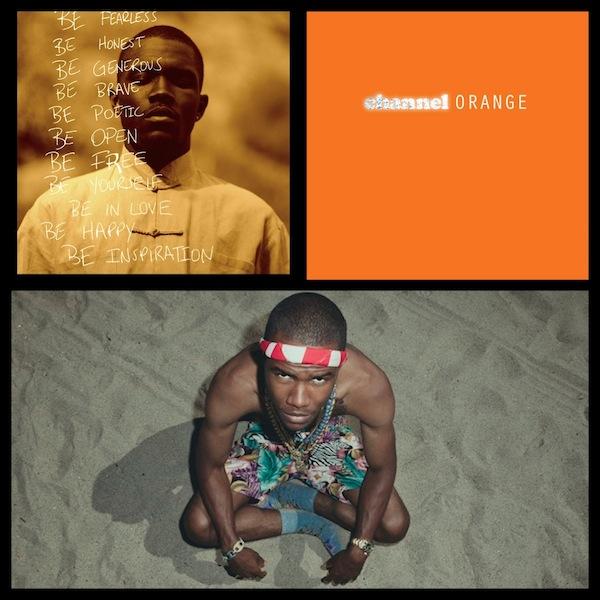 Frank Ocean's debut album "Channel Orange" is one part love, one part luxury, and all parts the loneliness that can come from experiencing an excess of the two.
He did his followers a solid by opening with "Thinkin Bout You" - the year-old spacey serenade to a boy that became a fan favorite. Despite now being enhanced with a strings intro, his falsetto - more importantly - remains in tact over the well-known warped ebb and flow. The new material begins with "Fertilizer" and, though only 40 seconds long, it's a telling tune as it's the first in a trio of interludes, and an introduction to Ocean's coming use of retro-funk inspirations; the source of its sound recalls Stevie Wonder's amplified clavinet keyboard.
"Sweet Life"
- the beginning of a trifecta that can't be ignored - gives nod to Wonder again with its jazzy jam band feel, all big horns and bubbly keys. And though the piano sounds peppy, the context is anything but as Ocean sarcastically asks the affluent: "Why see the world when you've got the beach?" But the minute-long monologue "Not Just Money" follows, told by a seemingly struggling mother who counters his argument by linking money to happiness. Still, Ocean drives his point home with the final flank, the snarky "Super Rich Kids" (below) on which he dryly deadpans - against the reworked piano-pound of Elton John's "Bennie & the Jets" - the emptiness that comes with excessive privilege: "The maids come around too much / Parents ain't around enough / Too many joyrides in daddy's Jaguar / Too many white lies and white lines."
The aforementioned allusion to drugs isn't Ocean's last. Ever the author, another troubled trilogy emerges. On "Pilot Jones," over the hazy bleeps, blips and finger snaps, Ocean finds himself falling victim to (and becoming the enabler of) a stumbling addict: "You're the dealer and the stoner with the sweetest kiss around." Doing away with the metaphors completely, "Crack Rock" paints the all-too-true picture of a "shuckin' & jivin' / stealin' and robbin'" junkie whose only home is an abandoned one once his family disowns him. But the tune's organs are dreary compared to the playful groove Ocean employs on "Lost" - surprisingly the most radio-friendly considering its subject matter - on which he revels in (and regrets) his girl's involvement in his drug dealings: "Can't believe I got her out here cooking dope."
In the midst of it all is "Pyramids," a 10-minute, two-part epic that deserves a review all its own (hear an excerpt below). It's an ever-changing anthem for the coveted women who abuse their beauty and power - in this instance, ancient Africa's Cleopatra and a modern-day stripper who shares her name. Ocean sells the shape-shifting saga over dub-step, funky synths, and an acid-rock guitar solo from John Mayer (who thankfully re-emerges on the much less cerebral, bluesy interlude "White.") And Ocean does it all with a shrug. But his cramming amalgamation of ideas doesn't always work, as on "Sierra Leone" he becomes a spoken word poet, a rapper with a descending delivery, and a harmonizing boy bander - all in under three minutes; on "Monks," the drums and cymbals are more piercing than they are pleasant; and on the eerie "Pink Matter," Ocean and his guest Andre 3000 - though both brilliant - fail to cohere.
But as the album makes its way to a close, you're reminded that Ocean's missteps are an exception to the rule. Setting the characters aside, he brings the album full circle by signing off with the same personal and intimate honesty he exercised on the opener. "Bad Religion" (hear it below) is a haunting, orchestra-backed taxi cab confessional that finds Ocean sobbing "I could never make him love me" a dozen-plus times. And "Forrest Gump," despite the upswing of its Southern soul, seconds the sentiment of unrequited love by sadly drawing a double entendre from a memorable movie scene: "But you kept running past the end zone."
Ultimately, on "Channel Orange," Ocean's ability to tell tales - whether tall or true - is incomparable, and though feeling intrusive comes with the territory, you feel altogether lucky to have gotten the chance to listen.
[Follow
@daniellesaid
]
live local music on
Enter your ZIP code to see concerts happening in your area.
Data provided by Zvents
follow msn music