Get To Know: Chippy Nonstop
Small frame, big rhymes.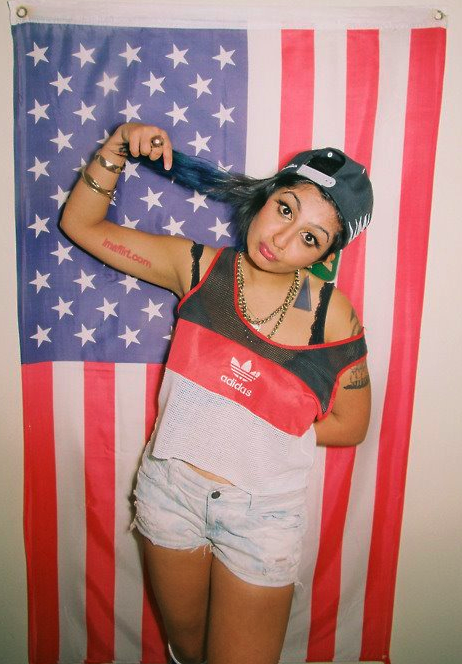 Who:
Chippy Nonstop
From:
Canada/California by way of Dubai/India

Why You Should Get To Know Her:
Because she twerks better than you, your momma, and your cousin too.
Chippy Nonstop had a ten-hour day before hopping on a call with MSN's Groove. After talking to us, she's headed to a meeting to finish the treatment for her "Money Dance" video. She's also in her last year at San Francisco's Academy of Art University, after having moved from Los Angeles where she ran the clubs with a fake I.D. This is the life of a new artist, known for high energy raps and the perfected "twerk" in her live performances. Now a newly 21, Chippy Nonstop is continuing to build steam after dropping her Mad Decent certified
#GLOBALSCHOOLOFTWERK​
this past Spring. While prepping her upcoming tour, she checks in to talk about her lost passport, getting mugged, and internet weirdos. It's all in a day's work.

When you decided that you wanted to make music, what was your first step?
Well, I was always really into dancing and performing. I grew up dancing; my mom was a dance teacher. So I was dancing for a DJ, and I never thought that I would actually rap, but I would go out sometimes and just rap as a joke. I never thought of it as a career. Then I made this song with a rapper from The Pack named Stunnaman ["Yous a Chote"], and after that I started doing more features. It wasn't until months later that I got into my solo sh*t. I got really into performing and recording and got so into it that I couldn't even imagine doing anything else.
Where are you from? Is it Canada?
I have a Canadian passport, but I was born in Dubai. Then I moved to Zambia in Africa, and I was there until I was six or seven. Then I moved to Canada and was there until I was 15, and then I moved to California. Then I moved to San Francisco by myself when I was 16.

How has your sound evolved since you first started recording?
I've been really into this new Electronic Trappish sound. Producers like Flosstradamus and a lot of the new stuff on Mad Decent that's coming out inspires me. I try to co-produce everything I put out, because a lot of different sounds from around the world inspire me. I like Dancehall, Cumbia, Baile Funk. On my album, I want it to still be a lot of things, but more relatable, more Poppish. Taking those sounds, but bringing them to Pop.
That must also be influenced by your Indian background.
Yeah, at home my mom listens to a lot of Bollywood music all the time. Even with Bollywood music, they sampled a Buraka Som Sistema song. I didn't even realize Bollywood knew about that stuff. They even sampled a Major Lazer song. Bollywood's developing too. It's kind of crazy.
So you're the Queen Of the Internet...
I don't know, I guess. I'm like really obsessed with the internet, and I have been forever. It's weird to be a presence on the Internet now. I'll get hundreds of likes on stuff. It's pretty cool. Right now, the Internet is where everyone that's interested in a scene gets all of their information. You can just use it to your advantage. Me and my friends were joking about that site Klout, like we call ourselves #YUNGKLOUTGANG. Klout measures how influential you are on the Internet and gives you a number from 1-100. And we were just calling ourselves that, completely joking. Now Klout is hitting us up, like "Wow you're an influential group on the internet," and we're like "wait, what?"

Didn't you get to hang out at the Klout offices recently?
Yeah it was so random! I was just recording at a studio by there, and my friend that I was with went outside to smoke a cigarette and he was like, "Do you know we're parked right outside the Klout office?" I was like, "No way!" Then they all tweeted at me like, "Oh we heard you're at the recording studio around the corner. Come by!" They were like all taking shots and partying in the office. It was really funny.
So you just turned 21. How were you getting into clubs this whole time?
I didn't really even have a fake I.D. until recently, I was just going to the places where my friends were playing. I'd sneak in through back doors. That's why I'd get kicked out a lot. I actually have no form of I.D. right now whatsoever. My passport got stolen, and the Canadian government is saying I need all of this stuff to get a new I.D. and I don't have it. You need two picture I.D.'s to get an I.D. and I don't have that. So I'm in this continuous cycle with the Canadian consulate.
How did your passport get stolen?

Because I live in Oakland and you get mugged here.
You got mugged?!
I mean, I've been mugged several times. Oakland's really crazy. I've traveled so much and I've never seen anything like Oakland.
What was your part in Trap House Collective?
I did mostly the more technical parts of the website because I know how to code and stuff. They all inspired me with the visuals and creative direction, and to this day all of what I did during Trap House inspires me now. That was a really cool experience. We caught M.I.A.'s eye and her team hit us up to work for her and stuff. That whole experience was crazy.
Is that how you got down with Mad Decent?
Well, we used to do a lot of graphics about stuff that we loved, and we were really inspired by M.I.A. Diplo was collaborating with her at the time, and tweeted at us one time and we freaked out. Then when we all moved to L.A., you just meet everyone there. Like one moment you're hanging out and Diplo's standing right next to you. He was like, "You're Chippy from the Internet!" and I was like, "OMG he knows who I am already!" This was before I was even making music. Then we would see each other everywhere. Plus the Mad Decent headquarters is in Los Angeles. Plus I'm an Internet lurk and would know all of their songs before they came out. They'd be like, "How does Chippy know about this song?" They knew I was lurking.
Do you lurk yourself? How do you keep from reading anything negative?

Sometimes I have mental breakdowns where I'm like, "Why are they talking sh*t about me?" For the most part, I'm like people are gonna say what they're gonna say. People are entitled to have their own opinion even though they shouldn't be putting out that negative energy. People will still f*ck with me. If I keep putting in this hard work, it'll pay off. If people like it, they will. If they don't, they don't.

You have a lot of creepers on Twitter...
Those I think are funny. I literally just laugh at those. I also get creepy emails. This one guy emailed me in French and said that I was his little hot croissant. Then he went on like, "If you ever come to Paris, I'm going to be your boyfriend." Just weird sh*t. I'm a huge fan of a lot of people, but I would never go out of my way to email creepy sh*t like that.

Follow Chippy Nonstop on Twitter @chippy_nonstop
live local music on
Enter your ZIP code to see concerts happening in your area.
Data provided by Zvents
follow msn music