Get To Know: Emilio Rojas
Rochester's own is ready to take over.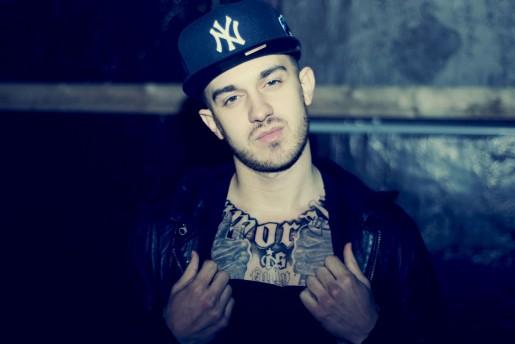 Who:
Emilio Rojas
From:
Rochester, NY
Why You Should Get To Know Him:
Because DJ Green Lantern gave him the thumbs up, and so should you.
The Rap scene nowadays thrives off a strong work ethic. With emcees constantly emerging from Blue Collar setups, we're getting this new form of a rap beast, who pairs solid bars with the hunger exhibited in the '80s and '90s long before rappers came equipped with Black Amex cards. Traveling down that lane is New York's Emilio Rojas. The Rochester born wordsmith has moved up NY's rap ranks fairly quickly with his raw breed of rhymes. Coming up, he linked with fellow hometown hero DJ Green Lantern to drop a couple of projects, most recently
Breaking Point
in conjunction with Billionaire Boys Club. Mr. Rojas took a few to chat with Groove about coming up in the "Roc," his friendship with Green Lantern and how feeding the streets and the internet are equally important.


What was the Hip-Hop scene like in Rochester coming up?
There was so much talent in Rochester growing up. Every week there was an open mic that I would hit up…tons of battles. The breakdancing scene up there was really big at one point and they used to hold these huge b-boy battles. I was always in the MC battles during those festivals.
When did you first get involved in Hip-Hop?
I have always loved music. My mother insisted that my sisters and I play instruments. I started off playing the drums – which naturally progressed to a love for Hip-Hop. That's why my flow is so rhythmic. I have always done it…even when I was little I would play around in the mirror rapping.
How did you link up with DJ Green Lantern?
My homie Legend from OnSmash was putting together a mixtape for the site. I submitted a song about Rochester that Green heard. He is a really web Savvy dude so he reached out and we've been working ever since. It's crazy – the internet can really level the playing field for artists now.
Your rhymes speak from a really personal place. What is your thought process when you write rhymes?
I don't really think. I just tell my story. I'm half Venezuelan and half American…I was raised by my mother…it's just me sharing my experience. I think that's why people really relate to what I put out – because it's so in line with the current climate in the country.
At what point did you realize that people were really beginning to take notice of your skills?
This last year has been crazy…Everyone from Rick Ross to Slaughterhouse have reached out and said they enjoy my music and what I'm doing. It's such a blessing to finally be getting recognized for all my hard work. It's humbling.
You freestyle over a lot of beats and add your own flavor. Do you ever feel like you outshine the original records?
That's always the goal. I feel like if I'm not going to do the original justice, or make people forget who was on the original and what they did to it then there really is no point. I'm really competitive, so I will listen to the original and approach the freestyle with the intention of totally overpowering it haha.
What has been your biggest obstacle so far in music?
Being ACTUALLY independent. The past few years labels have been signing artists and not announcing the deals for sometimes two years down the line. The whole time they market these artists like they are independent while they have major funding and marketing pushes behind them. It's wild because I have to compete with these same artists for a lot of the same looks with none of the funding or resource that they have.
How has the balance of internet and street hustle helped take your career to the next level?
The internet is a great way to reach tons of dedicated listeners. These are the fans that actively seek out new music. The street hustle gets everyone else. When you successful combine the two the most progress is made. It's crazy what being in markets and talking with people face to face does for your career. It's also been the greatest experience of my life. I love meeting the fans and seeing the way people in different cities feel about Hip-Hop and my approach to it.
What's next for you?
Everything.
If you weren't here doing this, where do you think you would be?
I can't imagine doing anything else.
More on Bing:
Emilio Rojas