Talib Kweli: Speak Of Freedom
An even more independent Talib Kweli speak on current and future projects.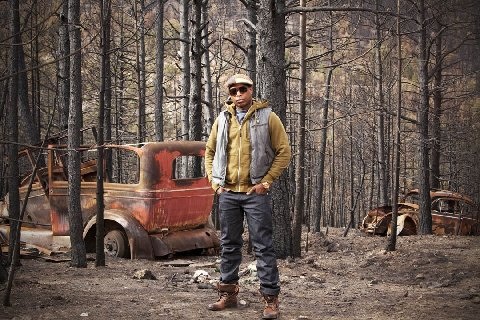 Talib Kweli just released his fourth (or fifth, depending on who you ask) album, Gutter Rainbows. What is certain is that the Brooklyn, NY rapper is now a free agent (he left his Warner Bros. recording home last year), Cutting out the middle man allowing the already prolific MC to mainline more music directly to his dedicated fan base. With another album, Prisoner of Conscious, due in the summer, Kweli is lining up up a chain gang of musical treats. Groove recently caught up with him to see what exactly he's cooking up.

Groove: This interview is for Gutter Rainbows but how did the "Ironside" song you contributed to Quincy Jones' Q: Soul Bossa Nostra come about?
Talib Kweli: My friend Kendra Ross is singing on that with me, she's also on Gutter Rainbows too. She also sang on "Get By," "Wait For You," a bunch of records, "Won't You Stay," on Kwelity. But Quincy Jones reached out to my management and asked me to get on it. They sent us the original session of the original "Ironside" to do what we wanted with it. When I listened to [Q: Soul Bossa Nostra], it's very similar to Back on the Block. Every 20 years or so he feels the need to remind people of his impact in the game with these albums. It's a wonderful opportunity for me to work with a legend.

Groove: Do you consider Gutter Rainbows your fourth or your fifth album? It's been referred to as both.
Talib Kweli: Hmm. As far as solo albums?
Groove: Yes, in terms of solo projects.
Talib Kweli: Yeah, maybe Right About Now, some people missed that one. I don't know [if I count it as an official album]. When I put it out it was called The Sucker Free Mixtape right? When I put it out it was definitely a mixtape in my head but when I listen to it, it is definitely an album. So I don't know I'm conflicted about that one.
Groove: Before the word was the your next project was Prisoner of Conscious, but here is Gutter Rainbows. What happened?
Talib Kweli: Prisoner of Conscious was something I started working on only because the buzz was there for it. People were asking about that album so I started putting it together. But when I left Warner Bros. in the summer [of last year] I was without a deal for the first time in my career, since people had heard of me. I was like, "Wow, I don't have to check with anybody if I wanted to put an album out." So I decided to put an album out.

Gutter Rainbows was songs that stood out that I was working on already for Prisoner of Conscious that felt like they need to be heard right now, starting with "Cold Rain." The subject matter of "Cold Rain" was so in pocket with what was going on at the time I wrote it that I felt that, "This songs needs to come out right now." I don't want to just drop it in the void, I want to have a project to associate it with. "Cold Rain," "Wait For You," the Outasight joint "Ain't Waiting," those are songs that I was working on for Prisoner of Conscious. I think "Friends and Family" too. The rest were songs I created for Gutter Rainbows. "Tater Tots" was a song that I had written over a Madlib track that I kins of revamped on a Nick Speed track because I felt it was more cinematic.
Groove: Any plans to work with Madlib again?
Talib Kweli: Yeah, I certainly want to work with Madlib on Prisoner of Conscious and I'm definitely going to do Liberation 2.
Groove: Are you ever going to go back to a major label situation again?
Talib Kweli: I don't see the point… Blacksmith is doing a partnership with EMI to put out my next album and the next Jean Grae album. And that's EMI label services, it's not even like the major label part. I don't see the benefit for me at this point.
I've always been free creatively. I keep business out of the studio. It's affecting the manner in which the music is released and how quickly it's released, and just the output. I've always had a lot of music out. Now I'm just in full control in how it comes out. I really feel the effect. I feel like my buzz is greater and I feel it based on me being able to just release music.
live local music on
Enter your ZIP code to see concerts happening in your area.
Data provided by Zvents
follow msn music