Frank Ocean's "Swim Good" Video Is More Than I Asked For
And not in a good way.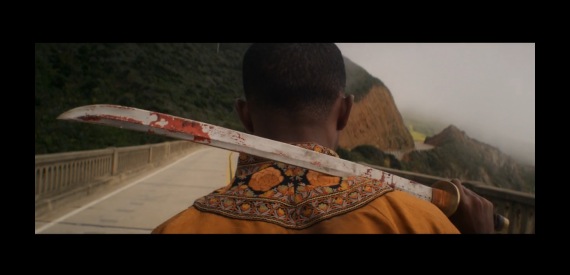 Late last week, Odd Future's resident crooner Frank Ocean released the video for "Swim Good," a standout track from the acclaimed mixtape
Nostalgia, Ultra
. And though the clip stayed on par with the weird work he and his collective have proven to be damn good at, it didn't exactly fulfill a fan's wishes. The fan being me.
I'm not saying every video must be literal, but if the lyrics tell such a good story, why the hell not? If you're gonna start a song off with "That's a pretty big trunk on my Lincoln town car, ain't it?," you should probably have a Lincoln in the video. And then have a body in the trunk. Or parts of one. Or an arsenal. Or a picnic basket and blanket. Who cares? But not opening it at all just shouldn't be an option. (And I'll completely ignore the fact that an orange limo was chosen instead.)
And if you're gonna boast, "I've got this black suit on, roaming around like I'm ready for a funeral," you better walk around like you're Mr. Pink. And the rest of your Reservoir Dogs are all dead. And you're on the hunt to fulfill a vengeful mission. If you threaten "I'm about to drive in the ocean," don't cry wolf. Pull it off like you're a poor man's Denzel in
Man On Fire
and whoever's in the whip deserves the finger-chopping torture. This is where my head goes when you give me words like that work with, Frank! I'm not usually this dark.
Granted, he wields a sword of some sort, which is enough weaponry to satisfy my cruel cravings. But he does so in Jordans. By himself. In a forest. Like he's the next next modern-day Karate Kid (after Jaden Smith). 
Finally, there's an explosion, one Frank sits back and dispassionately watches without remorse and while eating popcorn. And then I realize I've spoke too soon. And should be eating my words. Because the girl, who ghostly appeared in
blink-and-you-missed​-it
scenes, masochistically dancing around to the thrashing of Ocean's sword, like a much-sexier version of Whitney in
The Bodyguard,
is probably being burned to death as I type this. All the vague implications have gone over my head. And I should have been careful for what I wished for.
While the image of Rita G stomping to the trunk of a car to mercilessly beat Kanye with a shovel in the "Flashing Lights" video certainly comes to mind as something slightly funny and artistic, the tables-turned version has me feeling mighty uncomfortable. How could you murder a female, Frank? Oh, because I asked. Thank you?
live local music on
Enter your ZIP code to see concerts happening in your area.
Data provided by Zvents
follow msn music