Nas' Good "Life"
New album definitely "one of the good ones"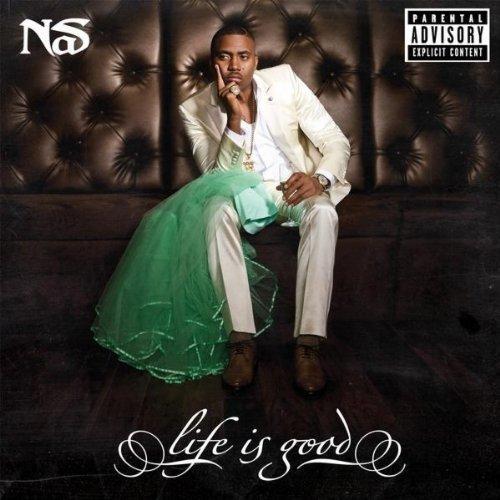 Few hip-hop fans dispute that Nas is one of the very best MCs of all time, but anyone who does dispute his spot does so largely based on another opinion we all agree on—a lot of Nas's albums have sucked. His best albums are classics in every sense of the word, but those high only make the lows of "Nastradamus" that much harder to swallow. Without getting any deeper into that topic, you can count on this—"Life is Good" is one of the real Nas albums.

Nas's slip-ups have mostly been the result of ill-fitting production or a lack of substance, but "Life is Good" has neither problem. Most tracks are produced by Salaam Remi or No I.D., which alone should be an indication that Nas was in the right headspace when he approached this album. "A Queens Story" has the gritty, deliberate feel of Nas's earlier days with just enough modern slickness to show the genre's growth. Single "The Don" does the same, bringing with it mandatory headnods and screw-faces. Nas's rhymes honor the production fully—he's energetic, making effort, and saying things. At times he goes large-scale, casually merging social-political issues into his rhymes and giving us a look into his views on modern life ("World's an Addiction"). At others, he goes hyperlocal, like on the surprisingly heartfelt and honest letter to his ex-wife "Bye Baby."
Somewhere in the middle lies "Daughters," a truly beautiful tribute to his own daughter that feels as good as any song does without any of the saccharine pandering that normally ruins most other artists' similar songs. A couple of tracks don't quite hold up to the standard of "Daughters," ("Reach Out," "Summer on Smash") but they're still listenable tracks that you don't need to go out of your way to skip. By the time "Stay" or "Cherry Wine" (with Amy Winehouse) come around, any complaints are easily forgotten anyway. Either way, there aren't really any bad songs on "Life is Good" and there are more than a few great ones—this is the Nas you love.
Ultimately, Nas's success or failure with an album usually comes down to a question of motivation. Being pushed by young hunger on "Illmatic" and a heated rivalry on "Stillmatic" produced two of the best rap albums ever released, and while it's hard to pin down exactly what lit the fire under Nas this time—approaching 40 probably figures into it—whatever it is worked. "Life is Good" is one of Nasir Jones's best, and considering what his other "bests" are, that's certainly saying something.
Are you sure you want to delete this comment?
live local music on
Enter your ZIP code to see concerts happening in your area.
Data provided by Zvents
follow msn music