Get To Know: Dee-1
He's a survivor in every sense of the word.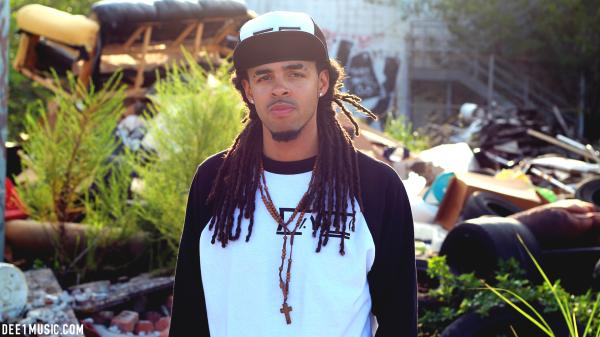 Who:
Dee-1
From:
New Orleans, LA

Why You Should Get To Know Him:
Because Mannie Fresh does.
When Dee-1 left his teaching career, it was with the intent to continue opening minds through music. The New Orleans-bred rapper spent his early days wanting to be a Hot Boy, and years later forged a friendship with Mannie Fresh that carried into his recent release of
#TheFocusTape
. There's a lot more going on with Dee-1 though, and as he's shaping up to be one of 2013's buzz artists, he checks in with Groove to discuss his stomping grounds, along with one very traumatic story involving his family.
Your sound is so different from other artists out of New Orleans. Who from the New Orleans Hip-Hop scene influenced you?
The Hot Boys. Growing up, I wanted to be one of the Hot Boys. I liked something about each of them. Lil Wayne's wordplay, Juvenile's storytelling, B.G's authenticity and believability, Turk's underdog mentality, Mannie Fresh's sense of humor, and Baby's confidence.
What about artists outside of NOLA?
Definitely influenced by Nas. His perspective on life is amazing. We all go through many of the same life experiences but your perspective on them can shape how you deal with them. From listening to his music, I think me and Nas have similar perspectives on life.
What is the Hip-Hop scene like in New Orleans?
It's a big bowl of gumbo, which means it has a little bit of everything in it. Backpack, street, conscious, bounce; you name it, we got it.

Artists/Businessmen like Master P really taught Hip-Hop about the DIY hustle. Did you apply that into your own business practice getting started?
I had to. I had no label funding my projects. I worked, saved money, and invested in myself. When I met Master P earlier this year, he admired how much I've been able to do on my own. And it's paying off. I'm currently on a 50 City tour with Macklemore and just dropped my new project
#TheFocusTape
(hosted by Mannie Fresh) on iTunes and for free at dee1music.com. I'm watching my life change as we speak, but I still stay humble and focused.

How did you make the transition from teacher to
artist/entrepreneur?​
I prayed on it. I consulted my family and close friends. I walked into the office and quit my job as a middle school Math teacher, and I became a full-time dream chaser. I haven't looked back since then. I hated to leave the kids I taught, but I knew that I was meant to reach people on a larger scale, with the microphone.
What did you aim to do differently with #TheFocusTape that you learned from your previous projects?
I wanted this to be my best project to date, and it is. It's a collection of anthems that motivate people to make it happen, to get closer to fulfilling their mission in life. And with my big bro Mannie Fresh hosting it, he gave me valuable insight on which songs to use, which to leave off, and how to make the project feel complete.
How did you link up with Mannie Fresh to host it?
I met Mannie like five years ago when I was still in college. Over time we've developed a close relationship, and now we're family. We have a crazy single out called "The One That Got Away," so him hosting the mixtape was his way of putting his stamp of approval on me for the world to hear.
The Northeast had a bad hit with Hurricane Sandy, but you had a really traumatic event with Hurricane Isaac and your parents. Can you speak on that? Were you affected by Hurricane Katrina as well?
Yes. My parents lost their house and cars in Hurricane Isaac two months ago. I'm not upset though, because at first I was scared that they lost their lives. They have a very positive attitude and in due time, the house will get rebuilt. The cars have been replaced. It's just more motivation for me to make it. And yes, the same thing happened to my whole family during Hurricane Katrina. That was the first time I heard my uncle cry. Katrina broke a lot of people's spirits at first, but time heals all wounds. Seven years later, we still have scars, but we're still here. Real life survivors. So prayers go out to everyone affected by Hurricane Sandy.
What's next for Dee-1?
I have 26 more tour dates. Then when I get off tour, I'll be working on my next project, which I'm dropping in February. I'm just focused on creating the best music for my fans. I want die-hard, ride or die fans. Not the ones who are here today and gone tomorrow. That's why I call my fans the Rebels. Because they're rebelling against what people tell them they should like and making their own decision to support. So I'm focused on my craft and growing my movement, one fan at a time.
If you weren't here doing this, where do you think you would be?
I would either still be teaching and coaching basketball or I'd own my own business and be coaching basketball. Or maybe teaching, owning my own business, and coaching basketball at the same time. I'd only be doing something I'm passionate about
Follow Dee-1 on Twitter: @Dee1Music
live local music on
Enter your ZIP code to see concerts happening in your area.
Data provided by Zvents
follow msn music