Get To Know: The Niceguys
...and their music is just as nice.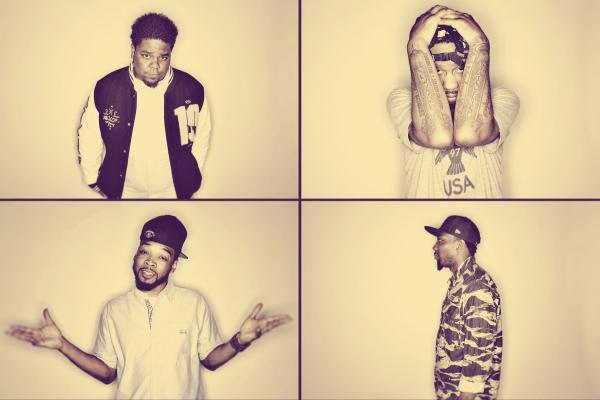 Who:
The Niceguys
From:
Houston, Texas
Why You Should Get To Know Them:
Because James Kelley sent them.
Deep within the halls of the University of Houston came four guys out to make a mark in music. Sure, everyone says that - but what the Niceguys bring to the table is a variety of sounds and styles that cohesively combine into one solid formula. And it all comes from being themselves. Their
James Kelley
project arrives this Fall, and they view it as a musical memoir of sorts. After all, for the past five years these guys have been perfecting their sound and making it signature (one step ahead of those flash-in-the-pan rappers who rhyme like everyone else). A combination of humor, skill, and motivation makes the Niceguys the new artists to check for in the Fall. Groove got to catch up with them to talk rituals, music, and Tyler Perry.

When you all met in school, when did you decide to make music together?
Christolph: Free had a small studio setup in his dorm freshman year..it honestly all happened by chance, very organic situation.
Yves: Yeah Todd [Christolph] had an idea to do a mixtape, around December 2006. We all agreed we'd do it, so it pretty much all started from that point. We were already messing around with music, but that's when we really became a team.
Free: Yves and I agreed with Todd. A little while after that we added Candlestick to the group and it became official.
DJ Candlestick: We officially started making music as a group in 2007.
You're known for bringing a new angle to Hip-Hop. What did you feel the current music was lacking that the Niceguys could bring?
Christolph: People think we bring a new angle to
Hip-Hop?....sweet...​"We're
gonna thicken the fuck out of that string" 
Yves: We felt that current music was lacking The Niceguys. 
DJ Candlestick: We're bringing personality, energy, excitement, all that. Not sure what rap is lacking, we just know what we bring to it. 
Free: Yeah, we're not doing anything new, were just doing everything better.

So who exactly is James Kelley?
Yves: Some guy who has done absolutely nothing for us, we don't need him at all. I'm contemplating changing the album name to "Yves" haha. 
DJ Candlestick: The most interesting man in the world. 
Free: James Kelley is our engineer, friend, assistant producer and basically the guy that ties everything in for us musically. He's also the owner of our home studio in Houston, Wire Road Studios.
Christolph: He's a good friend of ours, Chief engineer of Wire Road Studios, he's believed our music since day one. He's the reason for our first album 
If the sound of James Kelley could be described as a bunch of artists all in the studio, who would those artists be?
Christolph: The guy who sung the theme song to Family Matters and Full House, Prince, Shaquille O'Neal from Kazaam, Tay Zonday, and 50 Tyson.
Free: Eddie Murphy, Michael Bolton, the guy who made "Return of the Mack," Rick Astley, and Shabba Ranks. We're all over the place musically. 
Yves: Omar, Free, Todd and Yves.
What did you decide to do differently this time from your previous projects?
Christolph: We spent more time on each song, less shots of Jack Daniels between takes, plus the production is very different from the previous project. 
Yves: We really just took our time, and set out to make complete songs, with verses, choruses, bridges and all that. We tried to avoid cutting any corners musically, and we also decided to make songs that we can party to. We party a lot actually, so we decided to make more music for those occasions. 
DJ Candlestick: This time around we were more detailed with the music, more instrumentation, better choruses, and etc...just better song structure and attention to detail altogether. 
Free: We started meditating before each session, lots of nag champa incense in the studio, we read poetry to each other, did yoga, even started baking. Helped us get our minds right for this album, were way better off because of it. 
What are your favorite songs on the project?
Christolph: "Magick" and "265."
DJ Candlestick: "Married to the Mob" with Slim Thug, because I produced it, of course. 
Free: Right now my favorite is "265" which is a single we have coming up, it's a banger, a really hard hitting song. Also, this other record we have called "Think Big," Yves gets really personal on that one, and we brought in a live band for it also. It turned out really cool, and its really different from anything we've done thus far. 
Yves: I love the entire body of work, can't choose, I love em all.
What are your live performances like?
Christolph: Tyler Perry stage plays. 
Free: Do you remember the big fights that would happen at the end of each episode of Power Rangers? When they combine the Zords into the MegaZord? That, is what our performances feel like, lots of ass kicking, and sparks flying.
Yves: Our live shows look like, a typical rap performance......on bath salts. 
DJ Candlestick: Our live performances look like four really close friends having the time of their lives on stage.
Do you have any interesting pre-show or pre-recording rituals you do? What are they?
Christolph: Pray. 
Yves: We pray before every show, that's about it as far as "rituals" go. We don't really need to get prepared for a show, we stay prepared, as cliche as that may sound. 
DJ Candlestick: Nah, just a prayer, that's about it. 
Free: We say a prayer before every show, besides that, we don't really do anything, we just hang out, to us performances are the most fun part of being an artist, so there are no nerves or any need to do anything out of the ordinary before we get on stage. We just do it.
Played out question: Are you really all nice guys?
Christolph: Bane's Mask.
Yves: Yes, we are nice guys, figuratively.
DJ Candlestick: I'm nice, the rest of the guys are terrible people. 
Free: No, we're jerks, with kind hearts.
If you weren't here doing this, where do you think you would be?
DJ Candlestick: I'd probably be playing soccer in Europe actually, no joke.
Christolph: A mercenary for the League of Shadows. 
Yves: "If I wasn't rappin I'd be trappin, if I wasn't trappin I'd be pimpin," and if not that, I'd probably be a karate instructor at Rex Kwon Do. 
Free: I'd probably be a Garbage Bin Archivist, I hear there is a lot of money in that line of work. But honestly, there's nothing I'd rather been doing than music. Screw other jobs.
live local music on
Enter your ZIP code to see concerts happening in your area.
Data provided by Zvents
follow msn music