Odd Future's Tyler, the Creator Grows Up On Jimmy Fallon
...and it only took two years.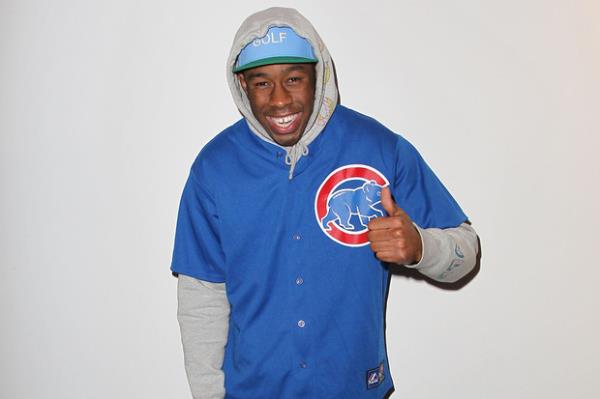 Two years ago, Tyler, the Creator made his television debut on
Late Night With Jimmy Fallon
. He performed "Sandwitches" with Hodgy Beats - starting with ski masks on their faces, eventually ripping them off to jump around a smoke-filled stage. It was shocking, in that sort of old school "Horrorcore" era of Rap. Tyler was jumping on couches, scaring Fallon's other guests. The girl from the ring was even there. The Odd Future frontman even jumped on Fallon's back at the end for a piggyback ride. It was youthful, scary, and full of life. Two years later, Tyler returns to
Late Night
with some minor modifications.
The performance opens with Coco from buzz band Quadron cooing as Tyler is seated at a piano stroking the keys. The two perform an excerpt from Tyler's "TreeHome," and it's a cutesy jazz-filled Adult Contemporary sounding track (can't really tell if it's ironic or not). The ancillary OFWGKTA member Jasper practically kicks Coco off the stage, as Tyler steps from behind the piano to perform "Domo 23."
Flanked by the aforementioned Jasper and Taco, the show gets crazy in true Tyler fashion. It's not
as crazy
as his very first performance, but there's some degree of action. There was a certain level of maturity this time around.
Sure, Tyler is still yelling and jumping, but most of the fancy footwork resides in the feet of Taco and Jasper. Tyler has tamed somewhat and focuses a little more on lyricism. He even alludes to achieving fame for eating a cockroach (that silkscreened moment in his "Yonkers" video that had Kanye West Tweeting about it). There are no roaches now though, no ski masks, just Tyler. And that's you really need at this point.
With his upcoming
Wolf
album dropping in April, we'll see what this young man has to offer this time around.
live local music on
Enter your ZIP code to see concerts happening in your area.
Data provided by Zvents
follow msn music