Beyonce Tells Us to "Bow Down"
But even her most loyal fans are considering not obliging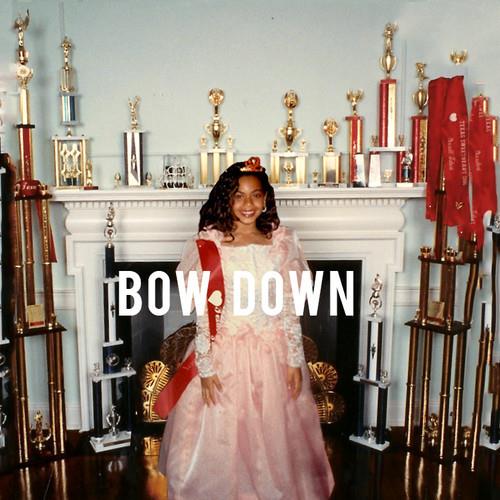 * Editor's note: The above song contains adult language
We should have seen this coming. Having had her ego stroked without pause for approximately 15 years straight, Beyonce is — as a result — feeling herself. Like, she's really feeling great about her greatness. Like, she's gone and reached the apex of arrogance. And now — not that she cares — it's up to us peons to determine if, with her new songs "Bow Down" and "I Been On," she's in audacity-overload or, as is usually the argument when it comes to Bey, her new-found attitude is (through clenched teeth) "rightfully deserved."

I don't know if anyone remembers the Beyonce who barely spoke above a whisper, or the one who never boasted about her achievements but credited them all to simply being "blessed," or the one who, for her entire career, has fronted an "I'm shy" campaign, throwing the phrase about like a slogan and forcing us, like a true politician, to believe the lie too.

Well, that Beyonce has left the building. To be fair, she'd alluded to this departure (from, well, humility) in her anticipated GQ interview—saying, "I could do what I want. I've worked harder than probably anyone I know. I'm more powerful than my mind can even digest and understand"—and even in Vogue, saying, "I don't feel like I have to please anyone. I'm grown. I can do what I want. I can say what I want. I can retire if I want," but I guess no one took her seriously. Until now.

On Sunday, King B (note: she named herself that) released on her website, without warning and lacking detail, the two-fer teaser "Bow Down / I Been On" — the first new material we've heard from her since 2011's "Love on Top" (and minus that Destiny's Child "comeback" (we use this term loosely) tune "Nuclear.")

Naturally, the song set was accompanied by album artwork that featured a young Beyonce in full regalia. Be it that of a princess, she's stands proudly decked in a tiara and sash—idk where her scepter is—flanked by trophies, some taller than the girl herself. And it's all just such a subtle nod to her success. So, not surprisingly, the first song's title makes use of her royal vernacular: "Bow Down."

Produced by Hit-Boy (the mastermind behind her husband Jay-Z's "N—s in Paris"), "Bow Down" starts off sassy with scampering snares and synths, and a distorted squeaky voice repping "the H-O" (a.k.a. Houston, Texas). Then it becomes kinda sweet when Beyonce softly sings, "I know when you were little girls / You dreamt of being in my world…" And, here, you think she's gonna dish out nice little tidbits about determination as she's been known to do over the years. But no. Instead, she gets real bossy, snarling: "Don't forget it / Respect that / Bow down, b—s." Umm, ok. You could have just asked nicely.

Bey repeats that order no less than five times, even reminding us: "I took some time to live my life / But don't think I'm just his little wife." What the? We didn't think... Why so angry, Bey?

Anyway, she sings (and swears) for no longer than 40 seconds before the beat switches up and segues into second half "I Been On," reportedly produced by Timbaland. Backed by operatic vocals (first heard in her Mrs. Carter Show World Tour promo), Bey's vocals get the serious chopped-and-screwed treatment — which makes sense because she's been known to hide behind made-up masks (see: Sasha Fierce) and that's probably the only way she felt comfortable boasting lyrics like this:

"Keep it trill / that's what's good… / poppin' bottles / in that club / I heard your boo / was talking lip / I told my crew / to smack that trick… / gold ass chain / gold ass ring… / I'm bigger than life… / I'm the number one chick / I don't need no hype."

It should be noted that Bey, ever the perfectionist, does sound more comfortable cursing here than she did in "Dreamgirls" (which was just cringe-worthy terrible), but did she have to call her adoring fans 'b—s'? Oh riiight, when asked—if ever—she'll likely shrug this off as "just being silly in the studio" and say that "she loves her fans" and would "never do anything to offend them" and blah blah blah, back on that beauty pageant platform she goes! And we will love her for it. Bow down, it is.

[Follow @DanielleSaid]



live local music on
Enter your ZIP code to see concerts happening in your area.
Data provided by Zvents
follow msn music