Rick Ross Cannonballs into a Crowded Pool of Summertime Releases
"God Forgives, I Don't" Likely to End Up As One of the Year's Best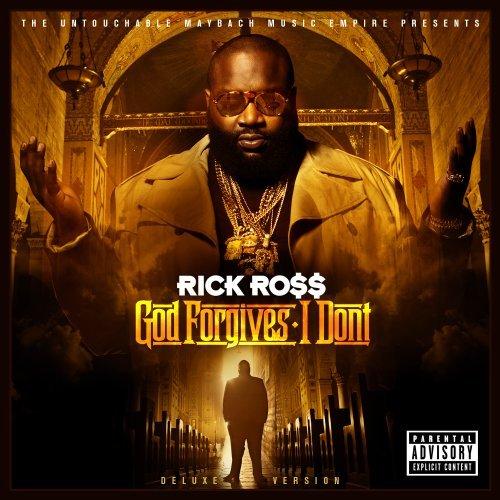 While Rick Ross has given us a steady stream of guest appearances and mixtapes over the last two years, he's taken his sweet time preparing the follow-up to the classic "Teflon Don." Next week, he'll finally unleash "God Forgives, I Don't," and while it'll take some time to know if this album has the staying power of his last, it would certainly appear that it has that potential. The summer is getting crowded with a fantastic Nas album already out and likely bangers from G.O.O.D. Music and 2 Chainz on the way, but once the dust settles, Ross will definitely be at least near the front of the pack.
By now, you've almost definitely heard the monster collaboration "3 Kings" (with Dr. Dre and Jay-Z) and probably "Sixteen" (with André 3000), both of which set the tone properly for the rest of the album. While Ross doesn't shy away from talk of coke and guns, he prefers to inhabit the persona of a kingpin than a corner boy, lending a level of maturity to the fantasy that makes the escapism feel less dirty.
It goes without saying that the album also includes the IVth entry in the "Maybach Music" series, this time with Ne-Yo as the only guest for hook duty. The J.U.S.T.I.C.E. league track is as close as most of us will ever get to actually being in a Maybach, but once again, both rapper and producers put forth work worthy of the luxury branding.
While "God Forgives, I Don't" lacks the huge Lex Luger production that punctuated the last album, Ross finds a good mid-point between those tracks and his more evolved style on tracks like "Pirates" and "911." While still somewhat hard-edged and aggressive, they blend well with more sophisticated fare like "Diced Pineapples" and "Presidential" (produced by Pharrell). "Ashamed" stands out as well, finding Ross expressing mixed feelings on The Life in that way that only the greats seem to be able to capture.
When Rick Ross first debuted, he had the atypical distinction of having a clear, deliberate style as if he'd been around much longer. As he's grown and built since then, his work has continued to get better and better and his solo albums have been among the most consistent released over the last few years. Some may question Ross's bold comparisons between himself and B.I.G., but besides cosmetic similarities, the two do in fact share an effortless, charismatic flow and a general aesthetic style that B.I.G. probably would've embraced by now if he'd had the chance. Nevertheless, Rick Ross is his own emcee and a damned good one at that—buy this record.
live local music on
Enter your ZIP code to see concerts happening in your area.
Data provided by Zvents
follow msn music