Bruno Mars: Let the "Unorthodox Jukebox" Play
The singer wears many hats (or fedoras) on new album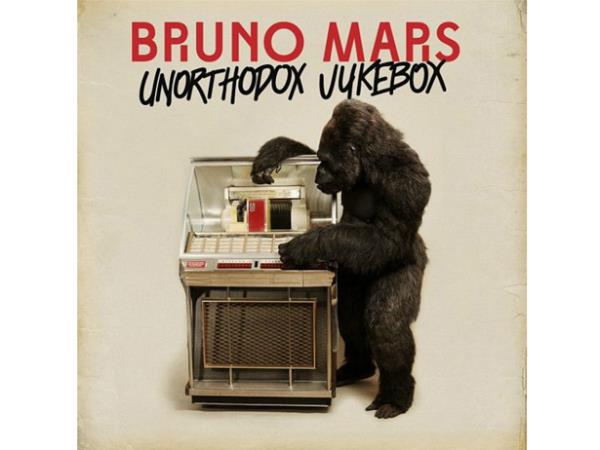 On his sophomore album "Unorthodox Jukebox," Bruno Mars plays the role of both the Lothario and the unlucky-in-love and, despite them being entirely different from the "Just the Way You Are"-loving, grenade-catching, marriage proposal-making crooner we met on his debut two years ago, he's equally convincing in doing so. 
Mars wastes no time waxing poetic about his weakness for women. On the opener "Young Girls," over strings and screechy feedback, he admits: "I spend all my money / on a big ol' fancy car / for these bright-eyed honeys / yeah, you know who you are." By the end of the tune, he declares they'll be the death of him—but it's reluctantly. The ladies still get the best of him on "Natalie," a handclap-backed, gospel-inspired tune that places Mars at the pulpit, warning his congregation—with some call-and-response—of​ women's wicked ways: "Little miss snake eyes ruined my life / she ran away with all my money / she's probably out there thinking it's funny." (It's a wildly different part than the the strip club-aficionado he plays on the sleazy soul of "Money Make Her Smile.")
Still, despite his tendency to be manipulated, Mars remains at the mercy of his bedmates. On the Mark Ronson-produced lead single "Locked Out of Heaven," he channels the reggae-rock styles of The Police with zippy synths and staccato yelps: "You bring me to my knees / you make me testify." But he regains the upper-hand, quite literally, on the lushly-orchestrated,​ menacing mood of "Gorilla" - an ode to animalistic action: "I got a fistful of your hair / but you don't look like you're scared." And again on "Show Me" where, over a steel drum-driven, dubby reggae groove, he calls a beauty's bluff: "You tell me all day that you're lonely / you say you're a woman who knows what she likes / then show me."
But the finger's not always pointed at the females. Over the bass-filled '80s disco funk of "Treasure," Mars likens his lady to the titular prized possession, and on the dark, Michael Jackson-like R&B of "Moonshine," Mars admits: "Everybody that's around / they know that I'm not myself when you're gone." A remorseful Mars even begins to own up to his own wrongdoings and divulges his regrets of ruining a relationship over the old-school '60s soul of "If I Knew" and on the dramatic piano ballad "When I Was Your Man."

On "Unorthodox Jukebox," Mars tries his hand at pianos and pop, reggae and rock, funk and doo-wop—and somehow it's altogether pleasant. While it'd be over-ambitious for others to do the same, you find yourself applauding Mars for actively experimenting as an artist. Plus, he sounds like he's having damn fun doing it and that's just contagious.

"Unorthodox Jukebox" will be available tomorrow, December 11.

live local music on
Enter your ZIP code to see concerts happening in your area.
Data provided by Zvents
follow msn music