Top 5 Moments From Oprah's "Next Chapter" with Rihanna
Watch it below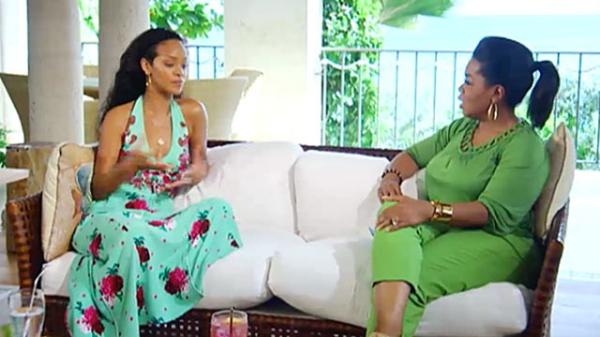 Last night, viewers watched as Oprah interviewed Rihanna on her homeland of Barbados for the talk show host's "Next Chapter" series. And though the maxi dress, hippie hair, and socks-with-sneakers look Rihanna rocked was pulled right out of a publicist's playbook (providing a stark contrast to the leather and latex,
chains and whips
we're
used
to seeing her in), the tears she cried (there were a hell of a lot of them) seemed real enough, so here are the top 5 most (seemingly) genuine moments:

5. If you weren't feeling Rihanna's island girl "Music of the Sun" steez, don't worry, she wasn't either.
On the beginning of her career: "It started off really claustrophobic. I feel like I was really, really protected, really guarded with myself. I felt like the marketing people at the label were giving me a blueprint and I couldn't get with that. They had a brand, and they had an idea of what they wanted me to be without figuring out who I was and then working with that. I felt stifled because I don't even know who I am at 16 and 17 years old, so I was uncomfortable with that and I knew the only way I could do that is by bursting out of it."
From "Pon de Replay" to "S&M"? Can't say we're surprised.
4. Rihanna's advice on love ain't half bad, considering...
On her late grandmother: "The one thing she wants me to do is marry someone that loves me more than I love them because a woman will always give, even more than they need to. We're selfless beings, it's maternal and even with a husband, she said it'll be that way with them as well. They'll only meet you half way if they love you a little more."
We're gonna hold out and see if statistics prove this true.
3. Rihanna likes to play coy about her sexy image despite, ya know, this and this and this.
On Esquire magazine's "Sexiest Woman Alive" title: "I don't even know what that means. I really do not think about things like that. That's not my goal like, 'Oh my gosh, I had a great achievement here with this title.' It's
flattering--inaccura​te,
but flattering. I thought it was cute. I had to fake it 'til I make it. I had to pretend that I was as comfortable, [but] I really was not. No way. I just felt like I had to fake it, I had to just go for it."
We don't believe you, you need more people.
2. In case you couldn't tell by now, she's not interested in being a role model.
"No, because of what society has made that title. It's become a title of perfection and that is something that no one can achieve, and I can't say that I'll get it right every time because I absolutely won't. I wish. I'm a work in progress."
Again, obvious.
1. I dunno, but sounds to us like she still loves Chris Brown.
"I think he was the love of my life. He was my first love and I see that he loved me the same way. We were very young and very spontaneous. We ran free, we ran wild, we were falling in love and going at a really rapid pace that we forgot about ourselves as individuals, we forgot about our personal discipline."
Doesn't it?
"We love each other and we probably always will and that's not anything that we're going to try to change. It's not something that you can shut off if you've ever been in love."
Kinda, right?
"I truly love him so the main thing for me is he's at peace. I'm not at peace if he's a little unhappy or he's still lonely. I care. It actually matters that he finds that peace."
Okay, yes, it's official, she does.
"It's awkward because I still love him. My stomach drops [when I see him] and I have to maintain this poker face and not let it get to the outer part of me. I have to maintain that and suppress it, but interpret it and understand that that's not gonna go away. When you don't understand those feelings, you can make a lot of mistakes."
live local music on
Enter your ZIP code to see concerts happening in your area.
Data provided by Zvents
follow msn music