Get To Know: Joey Bada$$ (Part Two)
From rapper to actor and the Illuminati.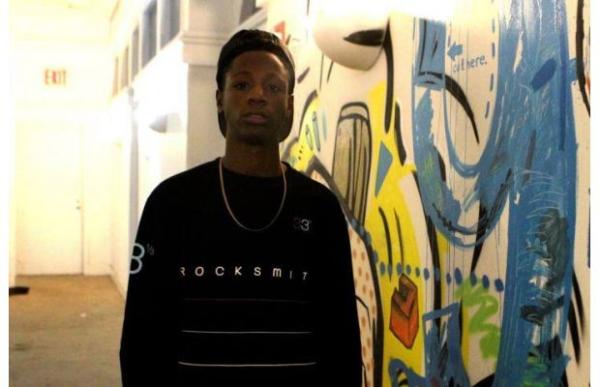 Before Joey Bada$$ was penning rhymes that now have Hip-Hop heads spinning, he was studying acting at Edward R. Murrow High School. While he may not return to school to next year (homeschooling is in the cards), Joey is adamant about continuing in acting career in addition to rapping. In Part Two of our Get To Know interview with Joey Bada$$, he discusses valuable lessons learned in the music industry, the Illuminati, and how traveling on tour can give even the toughest young man a serious bout of homesickness.
Out of all the artists that have co-signed you, what was the one that felt like the craziest to you?
Hmm. Damn, I don't even know. I mean I don't know because I'm holding that number one spot for Jigga Man [Jay-Z]. I couldn't even say who would be the craziest one. That number one spot is for Jigga Man.
Would you ever sign to the Roc?
Uh, no. Only way I would, [Jay-Z] would have to understand that I'm trying to get the same deal that he's trying to get because I'm trying to make the same money that he's making. So he would have to let me own my publishing, have to give me an independent deal. I'm not signing for anything below 85%.
Definitely not a 360 deal then.
HELL no. Hell no. He would have to understand where I'm coming from.
Did you study music business in school? How did you realize that the recording industry can get shady when it comes to label stuff? Or did you just hear about other peoples' situations?
I mean it's that...hearing about other peoples' situations...and it's also just having a good team around me. A good team of trustworthy people who tell me and who's 100% with me on how the industry is. Especially my manager, Jonny Shipes. He schools me on everything. Like he tells me everything. What I should do, what he wants to do, but at the end of the day it's always my decision. It's just having a good team around me, that really helps me like that.
You have an industry veteran managing you. How did you meet with Jonny?
I had this video back like 2, 3 years ago when I was 15. Well that was 2 years ago, I can't do my math. I was just rapping and it ended up on Worldstar and it had a couple thousand views on YouTube. I don't know how he came across it to this day; he just came across it. I left my contact info at the end of the video and he just contacted me. When he first contacted me, I thought he was just some random dude. But then I met up with him and everything and I was like, "Yo. Word? You manage Big K.R.I.T.? You manage Smoke DZA? Nipsey Hu$$le?!" Like, things like that. It was just like wow alright, let's start this relationship. Let's build. And then from there, he definitely got me.
What do you think of when you write your rhymes? How do you get your inspiration?
Different things. Like you know, I would just probably come home from a long day, I probably seen something I want to talk about, heard something I want to talk about. Or I would just pull inspiration from left field, honestly. I don't know where it comes from sometimes. Often I try to remember the inspiration that I get like right before I write a song, but it's different all the time. It's different every time. It's never the same inspiration; it's never the same method. It's like just like, there. I just gotta wait until I feel it.
Does it make you feel good that you're a part of the rebirth of New York Hip-Hop? New York has been waiting for a renaissance like this for a while.
It feels damn good, but what really feels good is that the artists who are going to come up after me, I'm going to be an influence to them. That's what's the part about it. Now peoples' main objective coming from Brooklyn, coming from New York and stuff like that, they're going to be like, "I got to be better than Joey Bada$$" and shit like that. And all that's going to do for me is make ME better. There's going to be people trying to beat me, and I just got to...you know.
Right. It's true. And Brooklyn has some of the best artists and now you're aiming to be one of them too.
Yea, that's definitely an accomplishment. I used to always sit in my room, listening to the greats and things like that. And what's funny is I used to never think that it was difficult to be one of those greats or just be a highly influential person.
Do you see younger kids coming up to you now and wanting to do what you're doing? Or even your classmates and want to know how you did it?
Yeah, definitely. Definitely. A lot of people are like, "Did you join the Illuminati? How did you do it so fast?" It's a lot of those things.
So are you in the Illuminati?
Am I in the Illuminati? Uh, I don't know. I don't think they ever really tell you. I don't know, I think you just fall into it.
You're going to wake up one day and you're going to get the letter in the mail.
I always thought about the Illuminati induction like, I would be in a studio session one night and like, everybody in the studio session would find a way to just separate themselves from me and go to the bathroom like, "Yeah right!" And then some guys with black hoodies and black capes would come in and just tell me something. I don't know. That's how I always imagined it as but who knows. I know for a fact I'm being watched.
Speaking of the Illuminati, have record labels been banging on your door?
Yeah, they definitely been banging on my door, but they've been getting shut down because they're all trying to propose that 360 deal and I'm not with that. I don't fuck with three 6's.
You've been doing a little bit of traveling too. What do you put on your tour rider for shows and stuff that you want in your backstage room?
Cheese, a lot of fruits, lasagna, pasta, water, mangos...well yeah, a lot of fruits. Just good food. I don't know, when I'm away from home, I want to feel as comfortable as can be. I want to feel at home away from home, even though that's going to be a difficult task. I've never been away from home for more than two weeks.
How do you fight being homesick?
I don't. I can't really. Being homesick is just something you got to deal with. You can't really fight it at all. You'll be having the time of your life but you'll be miles away from home and it's like yo, I miss home.
Aw, you miss Brooklyn, USA.
Yeah, I miss my friends and things like that.
If you weren't here doing this, what do you think you would be doing besides school?
If I wasn't doing rapping, I'd definitely be acting. I would have never taken a break from the whole acting thing that I wanted to do.
You think you're going to eventually do films still?
Yeah, definitely. I'm going to start back like next year and go hard.
You're going to start early. You have such a long career in front of you, that's so cool.
And that's what I often forget! That's what I often forget.
live local music on
Enter your ZIP code to see concerts happening in your area.
Data provided by Zvents
follow msn music