Top 5 Things Kanye West Hates (As Evidenced By His Latest Rant)
And every rant before that...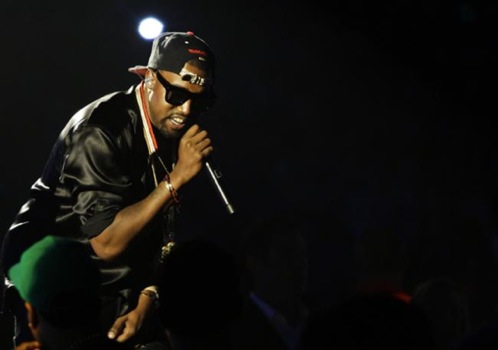 Kanye West did something so out of the ordinary while performing at the Milwaukee Summerfest last week. An unexpected, earth-shattering, mind-blowing something, really. He went on a rant. Oh, that's happened? Ok, then he wore his hat backwards.

Always up for the challenge of making us forget why we ever forgave him for anything in the first place, Kanye broke his vow of silence (not really, but a girl can dream) to treat(?) his fans to a trip inside his mind midway through "Monster" (seen below). Long story short, he's still an angry little genius. And he absolutely hates The Man - whoever he so chooses that to be this week. Because, as you know, it's been everybody from Taylor Swift to the year 2000. Oh, you didn't?
Let me remind you. #KanyeHates…
Paparazzi

"Dude, I'm not tryna stop you from getting paid at all / But I feel the pictures you take are tryna make the icons fall / Cuz there was a point back when my father was a photographer, you used to have to know how to work a dark room to take pictures / You used to have your flash exposed at the right setting / Now with automatic cameras, anybody can get in" – G-Shock Event rant, New York, August 2009
Oh, you are gonna hate Instagram…
The Year 2000
"If you believe when 2000 drops that we so f***ing stupid that the computers about to stop / And everybody who brought water bottles is feeling dumb as sh*t / They come and get the water bottles because America teaches fear / And you can get all your water bottles here." –
G-Shock Event rant
, New York, August 2009
Who holds a grudge for almost a decade?
They/Them
"It seemed like they wanted to take everything away. All the sponsors and everything, they wanna pull out or they try to say I'm misogynistic or bashing women cuz of the 'Monster' video. They won't let real artists be artists. They want some commercialized 'Yes' men sitting in they motherf***ing seat letting the bullsh*t go down year after year after year. This is what we work so hard for, and I won't let them slap me in the f***ing face or any real musician or real artist." – Milwaukee Summerfest rant, June 2011
Name names!
Taylor Swift

"Taylor never came to my defense..." - Bowery Ballroom rant, New York, November 2010
Solid argument 'Ye. Solid.
Prophetic Twitter Users
"(This spaz comes courtesy of losers making fake Kanye West Twitter accounts). DON'T HAVE A F***ING TWITTER...WHY WOULD I USE TWITTER? I ONLY BLOG 5 PERCENT OF WHAT I'M UP TO IN THE FIRST PLACE. I'M ACTUALLY SLOW DELIVERING CONTENT BECAUSE I'M TOO BUSY ACTUALLY BEING BUSY BEING CREATIVE MOST OF THE TIME AND IF I'M NOT AND I'M JUST LAYING ON A BEACH I WOULDN'T TELL THE WORLD. EVERYTHING THAT TWITTER OFFERS I NEED LESS OF." - Blog post rant, May 2009

You can ask Kanye to turn the volume down, here, on Twitter: @KanyeWest
live local music on
Enter your ZIP code to see concerts happening in your area.
Data provided by Zvents
follow msn music