A$AP Rocky is inching toward immortal
In other words, "Long.Live.A$AP."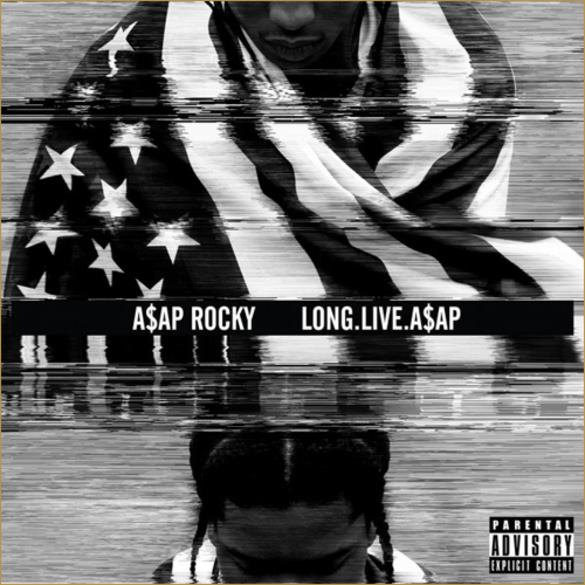 A$AP Rocky is one lucky man. His viral hit, "Pesos," was the catalyst that sparked his Harlem bred Rap movement, with his debut mixtape "LiveLoveA$AP" being hailed as an album-quality introduction into Hip-Hop. Then he basically vanished. Well, not entirely. He dated blond femme fatale Iggy Azalea just before succumbing to the fashion gods and edging into the Euro-fashion scene a la his female counterpart Azealia Banks. This is Hip-Hop though, and nobody really cares if you're on a runway or in an outlet store. The music is still somewhat the focus. While 2012 was full of a ton of false starts for A$AP, he kicks off 2013 with his debut album "Long.Live.A$AP." He was worth the wait.
During the Summer of last year, A$AP Rocky's collective A$AP Mob released the mixtape Lord$ Never Worry, and was met with lukewarm response. A$AP Rocky's minimal contribution to the project sated fans enough to know he was in the studio working, but the real champ of that project was ancillary star A$AP Ferg. It inadvertently put the pressure on Rocky, who dropped the colossal single "F**kin' Problems" in the Fall. It was argued that the track was only as good as the sum of its parts, with a 2 Chainz hook and Drake/Kendrick Lamar verses that ultimately summed up the biggest names in Rap of 2012. Rocky was merely an assistant on his own project. The question was posed if A$AP Rocky could carry a debut album properly or was this just a flash in the pan success story. "Long.Live.A$AP" might not be your father's favorite brand of Hip-Hop, but it will certainly be your child's.
The album opens with the title track, a psychotropic sizzurpy trip, typical of the slow-mo soundscapes Rocky introduced with his initial project. The saga continues in a similar fashion with Hit-Boy produced single "Goldie," along with "PMW" with ScHoolboy Q. Then things dramatically shift gears, due in part to Clams Casino holding the production duties on the next two tracks: "LVL" and "Hell" (with Santigold). We become re-acquainted with the A$AP Rocky that wowed us with the obscure spacey samples, most notably found in the newly coined Cloud Rap. "Fashion Killa," found later in the album is another contender for that crown, though it has "hit" written all over it. "F**kin Problems" feels almost out of place given the tone of "Long.Live.A$AP," but the cameos alone provide some cred. The high energy "Wild For the Night" with Skrillex reinvents the wheel of Hip-Hop with dubstep as the rims. It's one of the most successful combinations of Rap and Dub since Dead Prez's "Hip Hop." Then "1 Train" arrives. A monster cut comprised of who is currently who in Rap, the song plays like a six-minute cypher, featuring the likes of Kendrick Lamar, Joey Bada$$, Yelawolf, Danny Brown, Action Bronson and Big K.R.I.T. It's gigantic, and it's brilliant. Aside from the aforementioned "Fashion Killa," the other highest point on the second half of the project is "Ghetto Symphony," where A$AP Ferg and Gunplay assist Rocky in a slick-synthy symphony that's a not so subtle nod to Outkast.
The only downfall to "Long.Live.A$AP" is that when the lows on the album, i.e. "Pain," "Phoenix," and "Suddenly" appear, they throw off the balance of the project. True, these tracks serve as lyrical exercises to further prove that Rocky is above all else an emcee, but they're not necessary given the genre-bending nature of the project. A$AP Rocky has created a musical that will resonate with those Rap fans who throw caution to the wind when it comes to their taste in Hip-Hop. It seems as though the genre as a whole is moving in that direction anyway, so this project makes an excellent segue.
Are you sure you want to delete this comment?
live local music on
Enter your ZIP code to see concerts happening in your area.
Data provided by Zvents
follow msn music