Get To Know: Pac Div
Still sealed for freshness.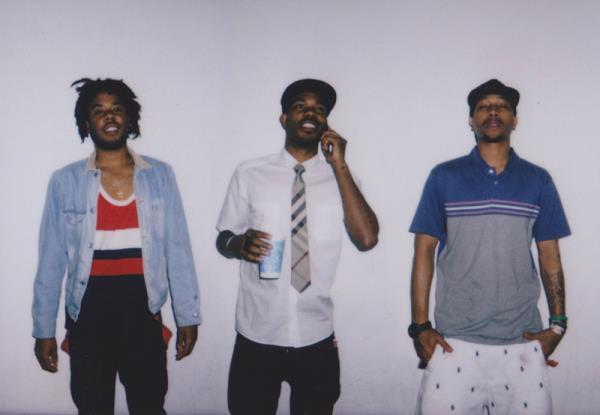 Who:
Pac Div
From:
SoCal
Why You Should Get To Know Them:
Because real Rap fans already do.
Pac Div are something of a Hip-Hop staple. When the Southern Cali trio first arrived in the game back in 2006, their refreshing breed of Rap had everyone tuned in. Like, Mibbs, and BeYoung were those dudes who truly loved Hip-Hop and it showed in their output. While their first mixtape
Sealed For Freshness: The Blend Tape
was the kickstarter for their career, it took five years for the group to drop their debut album The DiV in 2011. They'd already weathered the major label storm, had vets cosigning them, and a fanbase wondering why they weren't the biggest rappers out. Their latest
GMB
is proof that they've only gotten better, with a sound that transcends the mainstream and the underground. Groove checked in with Mibbs of Pac Div to comment on the group's progress thus far. So why "Get To Know" them after all this time? Because Pac Div is still one of the brightest groups in Hip-Hop, and if you don't know them by now, it's about time you do.
You've been around for a while now, but do you feel like you have to keep re-introducing yourself to the new Hip-Hop audiences? Is that awesome or annoying?
The idea of re-introducing ourselves doesn't bother me much, because as time flies, fans and new fans perception of what we do vary because we take the approach that every new release is a new beginning. Every new effort is treated like the start.
When Sealed For Freshness dropped, the industry went crazy. Why did you take such a long break before Church League Champions dropped?
The break in between
SFF
and CLC was so long because, the process of getting signed to Universal/Motown slowed down our plans to release music. Under their constraints, the label advised us to hold the music because they owned it that point. As frustrating as it was, we understood that Universal had their own plans in how the music was supposed to be released.
What are the pros and cons of being signed to one of the majors?
The pro to being signed to a major is that you have the machine behind you that usually works on its own to get the message out. The con to being signed to Universal was that they were only concerned with us making records that had huge radio spins and hit the top 40, which was a neglected area. We tried hard to come to a middle ground, by delivering product that the label heads believed were the right producers to work with, but in the process the results didn't show their way. Hit records become hits because either there's a huge push or a huge community that follows the artist. At that time we didn't have either.
In a world now where Hip-Hop is all about DIY, do you still keep a tight hold on your career?

We keep a tight hold on our careers because we're totally independent. DIY is the name of the game now for sure and with that knowledge we know that the ship doesn't sail unless we move it ourselves.

What did you aim to do differently with GMB from The DiV?
GMB
is a total banger. We took a more aggressive approach to this album because we feel more than ever that LA Hip-Hop is approaching the forefront of music, and since we're pioneers of this whole movement it was only right to get tougher than
The DiV
.

Your sound has definitely evolved from the first mixtape. What were some critiques you took into consideration in refining the Pac Div sound?
I feel like the original sound is always present, but we just got heavier on the production. Our rhymes are more clearly defined to our personalities, and we used more features than in any other project. It all helps the whole.

Who were some of your biggest influences coming up?
Suga Free, Tupac, Jay, Biggie, Outkast, NWA, Dogg Pound, Pharcyde, Nas, Hieroglyphics, Slum Village, Tribe... The list goes on of course. Pretty much dope musicians and we also influence each other. We're some live ass dudes.
So many veterans in the game co-signed you off the bat. How did that feel?
It always feels great to know that people we've looked up to since we were kids listen to us and find inspiration just as we did with them. It's essential to get the Hall of Famers' co-sign. It lets us know we're doing the right thing.
What would you say is your greatest lesson learned so far?

The greatest lesson I've learned personally is that regardless of good response, if you're in the music industry to win, follow you heart and get to the fuckin' money.

If the Pac Div of 2012 could offer any advice to the Pac Div of 2006, what would it be and why?
My only advice for the Pac Div of 2006 would be: make sure you make the most money you can in the years to come so that you can have millions in the bank by 2012.
live local music on
Enter your ZIP code to see concerts happening in your area.
Data provided by Zvents
follow msn music