Rebecca Ferguson's "Heaven" is a Godsend
A reality TV runner-up technically wins with her debut album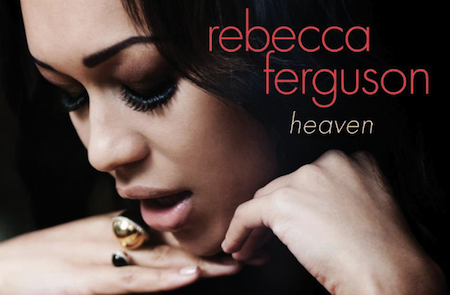 Despite having already gained fame as the runner-up on the seventh season of the UK's televised singing competition
The
X Factor
and having already released her album
Heaven
to that loyal audience nearly 6 months ago, us statesiders were just introduced to English singer-songwriter Rebecca Ferguson last week when she dropped her debut here.
It's painful and seems almost trite to compare Ferguson to her fellow female British balladeers - Adele, Amy, Leona and the like - but it's impossible to ignore the soul-steeped music she delivers, much like they did, on her debut. Thankfully, her voice sets her apart because what it lacks in Leona's range and Adele's anger, it makes up for in sheer distinction - and we get to hear it immediately, backed solely by an acoustic guitar, almost intentionally naked, on the opener
"Nothing's Real but Love."
It's a throaty timbre that recalls Tina Turner and (a more tolerable) Macy Gray all at once on the gospel-inspired track that's foundation is built on Ferguson effortlessly hitting the marks of a striking 3-point crescendo chorus: "
No
money /
no
house /
no
car / can beat love…" Things take an eerie turn on the jazzy groove of
"Glitter & Gold"
in which she gives the witchy warning "Take care of your soul…," her dark side emanating in a told-you-so fashion.
And then the standout track emerges.
"Shoulder to Shoulder"
is, like most ballads, piano-driven, but manages to be emotional without being overwrought as Ferguson sings in the same types of waves a relationship takes: "So I'm gonna drag you down / whilst you drag me down." You fear, less than halfway through, that this could be as good as the album gets and, in terms of serenades, you may be right but thankfully things pick up with the
appropriately-titled​
"Fairytale."
Horns and hand claps make the soul-inspired sounds fit for summer, and she draws out syllables with a flirty falsetto reminiscent of Minnie Riperton.
"Mr. Bright Eyes"
keeps the pace with Motown-like tinkling keys.
Much like the opener, Ferguson's warm and husky vocals emerge in their lonesome to carry the intro of
"Fighting Suspicions,"
asking "Isn't it amazing what a lonely heart will have you do?" before a string-heavy dramatic beat fit for a ballroom drops. Unfortunately, the slow tale of
"Teach Me How to be Loved"
pales in comparison to its similar piano-driven predecessor and must be endured before you get to more goods, like the would-be '90s club anthems: the positive powerhouse
"Run Free"
complete with finger-snapping, and the house music-infused
"Too Good to Lose."
Ferguson's debut is ultimately an addictive composition of full vocals and lush instrumentation and if her
"Diamond to Stone"
track - on which she sounds uncannily like
the
Aretha - is any indication, she'll stay winning, no reality TV needed.
live local music on
Enter your ZIP code to see concerts happening in your area.
Data provided by Zvents
follow msn music