Slaughterhouse Establishes Itself as a Real Group with "Welcome to Our House"
...but releasing albums instead of mixtapes comes at a cost.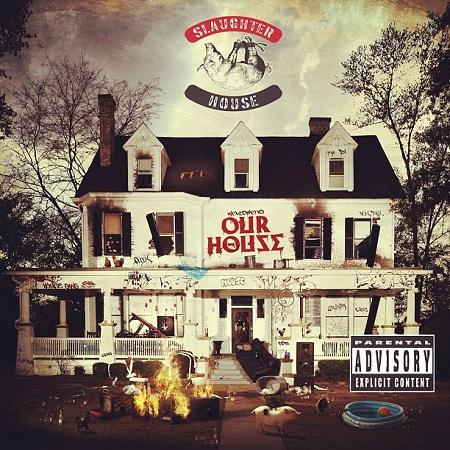 Having formed close to five years ago, Slaughterhouse seemed to start out as another one of those rap supergroups that would never produce any actual music. At this point, they've manage to definitively buck the trend and are have released their second actual album since signing with Shady Records. More importantly, Slaughterhouse improves on the formula by being composed of four competent artists instead of one or two stars and a remainder of dead weight.
Joe Budden, Crooked I, Rocye da 5'9" and Joell Ortiz are all distinct enough stylistically to justify a place in the group but also blend well as a group. Whether alongside guests like Busta Rhymes ("Coffin") or Eminem ("Our House"), each member seems to be driven by the desire to not get shown up by any other emcee in the booth. The quartet works best over dark, hard beats overall, though they turn up the energy for "Throw It Away" (watch it here) or "Walk of Shame." Nevertheless, it's the straight-up "rappers rapping" tracks ("Hammer Dance") that work the best by giving everyone room to do what they do best without a lot of fuss.
There are definitely times when the realities of making a major label album get in the way of what Slaughterhouse's core fans are looking for, however. Single "My Life" (with Cee-Lo, watch it here) is an obvious attempt at something radio-friendly, and while it isn't necessarily bad, it just as easily could've been another B.o.B. & Bruno Mars collaboration that didn't matter. "Throw That" suffers a similar fate as an obligatory track for the clubs, and on an album with 20 tracks (including the bonuses) these kinds of unnatural, obligatory additions seem that much more unnecessary.
Part of the reason why these four needed to come together was that none of them was getting as much traction as they arguably deserved as solo acts. Pure emcees just don't go over as well as they used to, so pulling in each of their audiences helps assemble a decent enough fanbase to make the group worthwhile for a proper label. This being 2012, however, making an album comes with certain rules that are hard for pure emcees to commit to properly. There are certainly a handful of tracks on "Welcome to Our House" that, in a perfect would, wouldn't exist, but they're a worthwhile tradeoff for the songs where the group gets to do what they want. It would probably be nice to hear some new solo material from the various members, but in the meantime, there's a legitimate strength in their numbers.
live local music on
Enter your ZIP code to see concerts happening in your area.
Data provided by Zvents
follow msn music