Brandy Supposedly Honors Whitney's Memory on "Put It Down"
How? Don't ask me.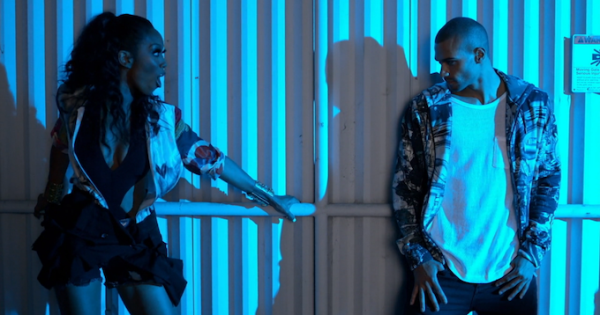 From what I've been told by The Internet, Brandy and Whitney Houston had a special relationship. Apparently, the late Ms. Houston often guided and advised Miss Norwood's development as an artist and now, Brandy has named her upcoming album 'Two Eleven,' both as a reference to her own birthday and the date of Houston's death. Fine. 
I don't have any reason to accuse Brandy of exaggerating her relationship with Whitney so as far as I know, it's true. What I don't understand, however, is what part of her new video "Put it Down" (
watch it here
) is any kind of tribute to Whitney or her memory. If this album will be a tribute of some kind, so far, it appears that it'll be so in name only.
After watching this
theoretically-innocu​ous-but-kinda-shamef​ul-in-context
clip, the following issues stick out in my mind:
1) This video looks nothing like any video Whitney Houston would ever have shot.

2) This song sounds nothing like any song Whitney Houston would have ever released.
3) This song is not good.
4) I'm not sure what message we're supposed to take away from Brandy dancing in a dark alley with six to eight men who are clearly interested in... something more.
5) Also, Chris Brown is in it—something doesn't feel right about that.

6) Brandy is not 17 anymore—has anyone told her?
7) Rap singing? For real?
8) No matter how hard it tries, this video does not make me want to buy a Vaio.
9) I... wouldn't recommend a lot of car-related imagery in Brandy videos going forward. Remember that thing that happened? You know what I'm talking about...
10) So seriously—how is this a tribute to Whitney Houston again?
I don't want to go too far down the well in questioning Brandy's motivations, but it's hard not to feel like the "tribute" part of this project will end up being the same disingenuous marketing-ploy that tributes often are. Nevertheless, I still have love for Brandy so, to be fair, I'll have her explain it in her own words...
Yeah, okay... 
Maybe you could have dug a bit deeper, actually asked Brandy, or listened to the many interviews she's done.  If you had, you'd know that just prior to Whitney's death, Whitney told her to just be herself, don't try to be anyone else.  Being herself was enough, because nobody but Brandy can be Brandy....She basically told her to be comfortable in her own skin....She's honoring Whitney's memory by doing just that.  Brandy's been through a lot over the years and that I'm sure helped give her a boost in confidence.  It's obvious to me that her confidence level is much more than it used to be.  I know you may find it boring  to actually have something nice to say about someone else, but try it...
Are you sure you want to delete this comment?
live local music on
Enter your ZIP code to see concerts happening in your area.
Data provided by Zvents
follow msn music