Get To Know: Snow Tha Product
A Beauty and a Beast.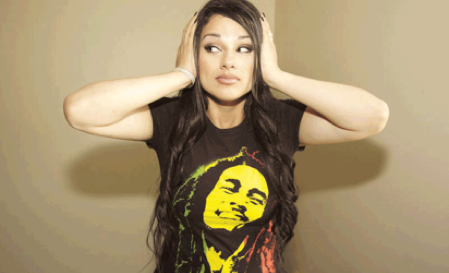 Who:
Snow Tha Product
From:
Texas, by way of California
Why You Should Get To Know Her:
Because she's so much greater than that
"Informer"
guy.
Both California and Texas have a rich Hip-Hop history, dominated by very specific styles within their respective niche rap landscapes. However, few females have truly penetrated those regions to make a big enough impact nationwide (no disrespect to Kreayshawn). Snow Tha Product is up for the challenge. With model-esque looks, but rhymes like a felon, Snow is a unique hybrid of the female emcee. Much like the recent success story called Nicki Minaj, the Latina rapper Snow aims to achieve lyrical superiority while maintaining femininity. It's a rare feat, but she's accomplished it well.
Her
Unorthodox 0.5
mixtape was essentially the firestarter for Snow's career. Tracks like "Holy Shit" and "Drunk Love" became the catalysts, ultimately leading to Snow inking a deal with Atlantic Records. While Snow is adjusting to her major label fits and gearing for the release of her next project
Beauty and the Beast
, she chops with it up with MSN's Groove about how her Cali-Texan duality affected her style and despite calling herself "Snow" she reps for the Latinas.
How do you respond to people who keep mistaking you for a white rapper?
I would tell anyone who thinks I am a white rapper that they must have not heard many of my songs. I mention I am Latina in a lot of my songs - I am proud to be Latina. I don't take it as offensive though, I just make sure people know I am not trying to be something I am not. But it doesn't bother me much.
Do you feel like people underestimate your skills because of your looks?
I think it has been happening for so long, I no longer really worry. I know they always will underestimate, but I just work harder. I think coming into the game knowing I will be underestimated is actually the only way to work harder, 'cause I know I don't have it in the bag yet.
What is their response when they do hear you rhyme?
Usually the response is "that was unexpected!" [laughs] I am happy with that, because I'd rather impress them unexpectedly than disappoint their high hopes.
How have Cali and Texas Hip-Hop affected your style?
I think Texas and Cali are such big influences in Hip-Hop, they influence everyone. But of course, living in both states I have learned the indie hustle from Texas and the swag and style from Cali, and vice versa.
What was it about Atlantic Records that led you to sign with them?
I wanted to go with a label that had a good track record working with artists that already have a movement, and was able to compliment it as a partnership. Instead of changing me, they want to just expand what my team and I are already doing.
Your YouTube views for "Holy Shit" are approaching half a mill. How have you been promoting yourself?
I have just been working on more material and pushing videos out, I am really just trying to let the music work itself out. My team stays busy! We do a weekly web series called "Woke Wednesday Shorts" on
WakeYaGameUp.com
. We also have our clothing line called ill Legal Alien.
What were you like as a child? Did you write rhymes in your younger years?
I am pretty sure I was an annoying hyper child... that's what my family says! I sang and danced, and ran around a lot. I was pretty crazy. I started writing at a very young age, but didn't take it seriously until after I was 18.
What would you say was your career turning point, when you felt the world really started taking notice?
I would say it was definitely with my video "Holy Shit." It premiered on WorldStar, and after that, my manager started getting more and more calls from majors and large indie labels like, "She wrecks! Who is this chic?" Last August, DJ Whoo Kid reached out and we dropped Unorthodox 0.5, which expressed everything I was feeling at the moment.
Explain the meaning behind titling your mixtape Unorthodox.
I wanted people to expect something different, and not the typical mixtape with all remixed aggressive songs. I wanted them to know it would be weird, and with no rules, so you didn't expect me to have a general concept to the whole thing. The concept was there was no concept. Just me, unfiltered.
What's next for you?
I'm working on a new mixtape called
Beauty and A Beast
. We are always working on viral videos weekly, with our latest dropping from the
Unorthodox
mixtape, "Till Death." I will also being joining Kirko Bangz on a Texas Tour and will have two official showcases at SXSW 2012.

I love Snow Tha Product she is very pretty and I wish I could meet her I have her pics on my phone wallpapers and lock screens If I could meet her that would be my dream some ture I know 3 of your songs by heart holy sh t and drunk love and woke wenesday I love all of your songs but those are my fav ones
Kelsey LeAnn Hall :)
Are you sure you want to delete this comment?
live local music on
Enter your ZIP code to see concerts happening in your area.
Data provided by Zvents
follow msn music