Get To Know: Bianca Raquel
She don't need no hook for this.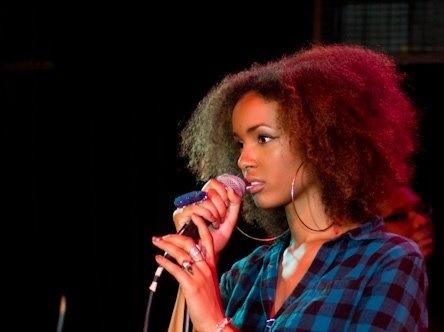 Who:

Bianca Raquel

From:

NY/NJ

Why You Should Get To Know Her:

Because she's a real member of Ray Chew's crew...and that's not all.

21-year-old Bianca Raquel is arguably a musical prodigy. Having ventured into songwriting at nine years old, Bianca knew from the start that she was destined for sonic greatness. In the visuals for her track "No Hook," you can see Raquel in action, crafting the beat, singing the song and moving along to the slowed down tune of the same sample used in Puff Daddy & the Family's "All About the Benjamins." Sure she's the daughter of Apollo's legendary Ray Chew, but had she not been born to a iconic bloodline, Bianca Raquel would probably still be turning heads with her music. She elaborates on that voyage with Groove, while discussing her latest adventure called "Detox." At least someone is releasing a project with that title (sorry Dr. Dre).

You began songwriting at a very young age. How old were you, and what was the first song you wrote about?

My first songs were "Barney"-esque. I was very young, and I wrote about what I knew so subject matter was limited to "sharing toys" and "being friends." The first love song I ever wrote, produced and recorded was at age 9. It was called "Give Me a Chance." It's about having a crush on a guy in class and telling him that if he would "give me a chance" I could be his girl in "1,2,3." Pretty cheesy, but that was my 4th-grade life!

When did you realize that music was "it" for you?

Music has always been "it" for me. It's always been apart of me, so much that I never really keyed into it as being a career path until I got older. It was never like "this is what I wanna be when I grow up" It was more like "this is what I am." It's always been an instinct and a coping mechanism. I've literally had music floating around in my head for as long as I can remember.  

Growing up, which artists influenced you?

Growing up, my biggest influence was Stevie Wonder. My mom used to sing me Stevie Wonder songs in the car and I have a good handle on his entire catalog. My dad schooled me on all of the classic music like the Stylistics, Earth Wind and Fire, the Jackson 5, The Supremes, Marvin Gaye. I knew all of those classic songs at a very young age. As I got older, my interest ventured more towards alternative, rock and metal music. Hip-Hop, of course, was an automatic influence.   

Your father Ray Chew is a legend in music. What was the best piece of advice he's ever given you?

My father has made it his point to instill in me a great sense of work ethic and humbleness. He has always taught me that talent is a gift from God and to always be thankful and mindful of that. He's taught me to strive to be the best "Bianca" that I can be and never to settle for mediocrity. 

Did he ever push you to try out for Showtime At the Apollo?

He never pushed me to try out, and I technically wasn't allowed to try out anyway because my father was an employee. I did have the wonderful luxury of being able to perform on the Apollo stage few times growing up. When I was really young, I was fearless, but around 12-13 I acquired stage fright and as much as I loved being up there I would shiver with nervousness. The Apollo definitely laid a foundation for me as a performer.   

You are a triple threat of

singer-songwriter-pr​oducer.

If you had to give up two out of three, which would they be and why?

Making the decision to be without of any of those skills would probably be my worst nightmare. If I absolutely had to give up two out of the three it would be production and singing. I love singing. I love producing. But songwriting is my core and always has been. Songwriting is like breathing to me.

Where do draw your inspirations from when writing your songs?

If I'm writing for another artist, I'll use them as a muse and try to write from their voice and perspective, even though it's still in my own style. If I'm writing a song just to write, I can get inspired by pretty much anything. I'll jot down random words, phrases that I see or hear anything that might spark an idea. A lot of times other mediums of art like film or photography might inspire a new song. Sometimes I'll be on my Fantom messing around with a beat and a new song will form organically. Most often, I am inspired by my real life experiences. I will sit at the piano and literally purge out four or five songs in one sitting. I'll play chords and the words and melody will come freely, almost as if the music has been dormant in me and is choosing this particular moment to reveal itself.

How did you balance attending Berklee College Of Music and maintaining a music career?

A few months ago, I made the decision to take a break from Berklee and pursue my career full time. I was kind of half in, half out and doing anything halfway almost never results in success. You have to put your all into everything you do and I had to follow my heart. I am so grateful for the knowledge, skills and experiences I am able to take away from Berklee. The well-seasoned teachers and the diversity and high caliber of talent in the student body can hardly be matched. Berklee has truly helped me to find my voice and has played a significant part in shaping me into the musician and artist that I am today.

What do you have coming up nex

t?

Currently, I am in the process of releasing a series of 12 songs married with visuals on a monthly basis called "The Detox." "The Detox" is my introduction to the world as a songwriter and a producer. The catalog is diverse and ranging in influence but remains stylistically consistent and will give listeners a chance to get familiarized with my sound. It's also an opportunity for the audience to relate to me as far as topic matter and content is concerned. I am singing my life and as difficult as it is to tell your truth and face reality, it's very freeing. Every month on the 21st, you'll get a chance to join me in my "Detox."

If you weren't here doing this, where do you think you would be?

Honestly, I wouldn't be me if I weren't doing music. It's the biggest part of me. However, I am an artist through and through and I've always been a writer. Maybe if I weren't a musician I would be a novelist or a poet.
live local music on
Enter your ZIP code to see concerts happening in your area.
Data provided by Zvents
follow msn music