Karmin Says "Hello" in 7 Songs (or Less)
Depending on how far you get through their debut album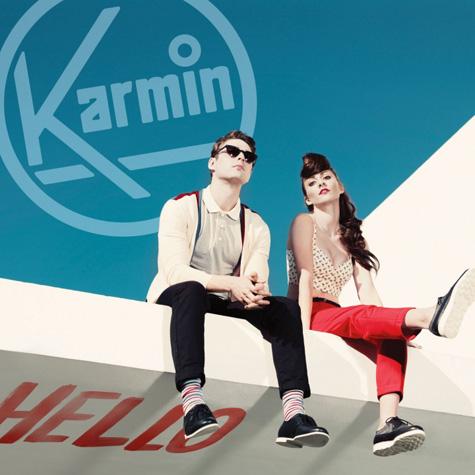 In romantic (and cliche) "overnight success" fashion, almost exactly a year after they posted their viral YouTube cover of Chris Brown's "Look at Me Now" (with female half Amy Heidemann hitting, yes, every syllable of Busta Rhymes' impossible verse), the duo that is Karmin released their debut album, Hello. And despite there being no overt renditions of others' tunes, the real-life couple (also comprised of Nick Noonan) continue to do what we've known them to do best: borrow sounds and styles you know you've heard before, but are vested in seeing their take & twist on.

Whatever you imagine Katy Perry would sound like rapping is what you fear Heidermann, in fact, will. And that may not be far from the truth. Mousy, cutesy, nasally - Heiderman's flow is admittedly all of those things, but then, in a polarizing moment, it begins to rival that of Twista with a syllable seizure that leaves you blinking in the dusk, especially on "Told You So," the duo's darkest tune (if you can call it that, what with all the trumpet-blowing) in which her maniacal Nicki Minaj-esque delivery, coupled with a guitar-strumming, make you feel as if you're listening to the rumblings before a Western shootout. She's angry, but not that angry.
In fact, she assumes her usual wide-eyed, peppy self on the 80's pop-affected lead single "Brokenhearted" in which she soaks you in saccharine with a cheesy faux-English "Cheerio!" at the end of the each verse. She attempts to retrieve her street cred card with opener "Walking on the Moon" which uses a hip-hop, piano-backed, snare-and-bass-based​ beat that Common could have easily done justice. And much like his mainstream Lily Allen-assisted hit "Drivin' Me Wild," it alternates verses with a more melodic chorus. She attempts the same for soul music with the retro-flavored "I'm Just Sayin'" - one of the least irritable (or infectious) of the 7-song LP.
But things get way fuzzy when Karmin borrows too overtly. "Too Many Fish," with its cheerleader clap-driven opening, is Beyonce's "Get Me Bodied" in reverse. Or upside down. Or all-around scrambled, thanks to similar-sounding sass, big horns, crowd-encouraging call-and-repeat, and double-dutch-ready rhymes. And the title track closes the album, wrongfully pitting the ubiquitous, ascending electro trance against the sampling of Nirvana's "Smells Like Teen Spirit," topped with a lesson in Rap 101: "Too-faced / old friends / told me / 'the end.'" At the very least, you get a break from Heidermann's playful panache when Noonan takes lead vocals on the Snow Patrol-sappy beauty of a ballad, "Coming Up Strong."
Ultimately (and especially with clocking in at under 30 minutes), Hello is listenable - it just depends on how much kooky you like with your kick, push.
live local music on
Enter your ZIP code to see concerts happening in your area.
Data provided by Zvents
follow msn music