Nicki Minaj Reloads Times Square With "Starships" Remix
The Queen of Hip-Pop Surprised Fans with an Outdoor Show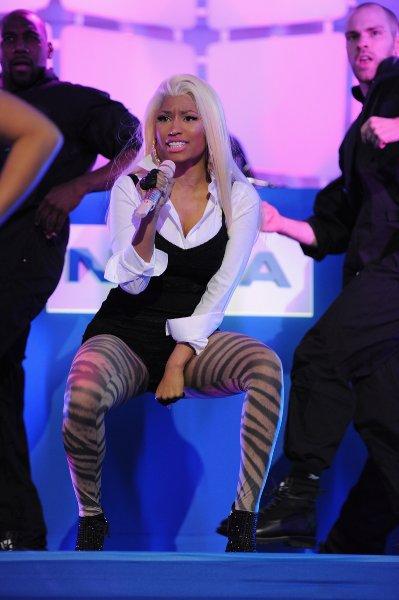 New York City's Times Square is known for impromptu happenings like flash mobs and street performances. However, Friday night (April 6th), fans of Nicki Minaj had the shock of their lives when Barbie appeared in the center of Times Square to perform. The show occurred as part of Nokia's Lumia 900 campaign. With Nokia screens lit in all corners of the Square, a gigantic blue box sat in the center with a ticker counting down, New Years Eve style. "Counting down to what?" tourists and New Yorkers alike wondered, as they strolled through the streets of Manhattan.
Crowds gathered based on nothing more than a semi-stage setup, while media professionals watched on at the R Lounge in the Renaissance Hotel. There, Nokia provided sample listens to audio through the new Windows-based cellphones, while sharing cocktails and hors d'oeuvres amidst a bird's eye view of the "giant blue box" outside. Back in the streets, chatter suggested that Lady Gaga was performing, while others assumed it was a delayed April Fool's stunt. However, once Nokia suggested one of "the world's biggest stars" was performing (the screens directed everyone to an informational Facebook page), all signs pointed to Nicki Minaj. The rap vixen just released her album
Pink Friday: Roman Reloaded
on April 3rd, a follow-up to her colossal debut,
Pink Friday
. Nicki's latest single "Starships" hit the top of the charts with a bullet, fusing Minaj's slick wordplay with her pop sensibility.
As the ticker reached 59 seconds, Times Square reached maximum capacity, and anyone within blocks of the New York City landmark raced to the center. Once the countdown completed, the blue box lifted and an entire stage setup hugged one Miss Nicki Minaj. Wearing a black leather unitard, a white blouse and zebra-print stockings, Nicki and one of her signature blond wigs ushered the crowd through a number of her recent hits. The obvious opener "Starships" had the crowd screaming and chanting, while "Right By My Side" (sans Chris Brown) brought a few tears to fans' eyes. The viral video hit "Superbass" closed Nicki's performance, with fans reaching a frenzy level, shouting the lyrics word for word. The final piece of the promotional puzzle was the closing remix to "Starships." Video cameras lined the outdoor venue, filming the crowd for a special remix video to Nicki Minaj's hit single. Sonically, the remix takes the poppy track to bass-heavy levels, delivering more of Nicki's Hip-Hop roots, the same battlegrounds that nurtured her stardom. Once the show finished, Nicki walked the black carpet at the Renaissance Hotel to pose for pictures with the Nokia Lumia 900.
"It's an honor for me to be here tonight," Minaj told her swarm of fans in Times Square. "I'm from New York, and I welcome all the tourists here today."
Nicki Minaj's
Pink Friday: Roman Reloaded
is in stores now.