Alicia Keys' "Girl on Fire" Video is Everything the Song Isn't
See: good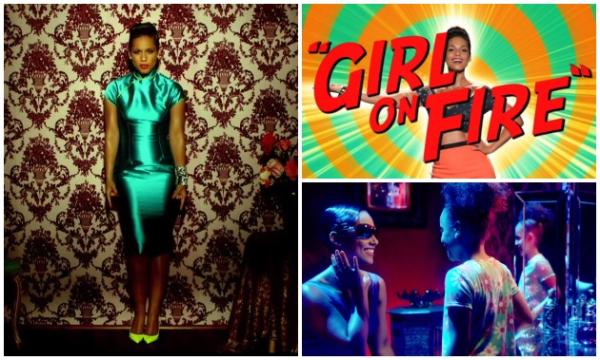 It's been three years since Alicia Keys released an album and, in that time, she's gotten married, had a baby, and descended the over-30 hump - milestones that more often than not call for inspired new material from artists that either ends up famously falling flat with doubtful fans who wonder if they've "still got it" or successfully silencing them. (Hear that, Beyonce, Adele and Mariah? You better wow us.)
Unfortunately for Keys, the lead single "Girl on Fire"—from her upcoming fifth album of the same name—does the former as it combines an uninventive rehashing of elements from her better hits with the ubiquitous appearance of a trendy rapper, and ultimately results in a catastrophic cacophony.
Keys does return to the piano on the tune but it disappears completely behind a pounding drum pattern - yes, the same one that made "Try Sleeping With a Broken Heart" a favorite in 2009. And when Keys isn't slinging the same old cheesy inspirational slop (a la "Superwoman") through her nasal passages, she's forgoing all melodic pleasantries and screaming at the top or her lungs on the chorus like this is "No One 2.0."
And like
Mariah Carey's "Triumphant" return
(or lack thereof), Keys' pairing up with a
musician-of-the-mome​nt
—in this case, it's Nicki Minaj—doesn't make the tune more commercial, it makes the calculated marketing scheme painfully transparent.
Thankfully, the video for "Girl on Fire" (of which both Minaj and her Marilyn Monroe-inspired verse are missing) makes up for all that the song isn't.
In the clip, directed by Sophie Muller, Keys basks (and illuminates) inside a house under brightly-colored bulbs, decked out in neons and jewel tones while, outside her window, rain pours relentlessly. She plays the everywoman - a mother, caretaker, and wife who cooks, cleans, and pays the bills, but she doesn't sulk - in fact, with a Mary Poppins-style secret, choreographed cooking and all, she does it all with a whimsy encouraging to every women.