N.O.R.E.'s Back? What What Wha-What!?!
"Crack on Steroids" Mixtape is a pleasant surprise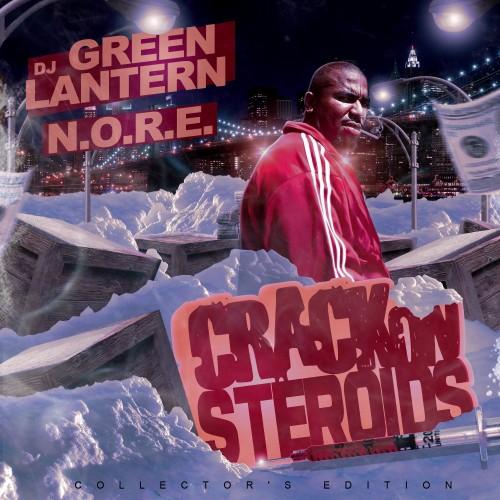 Like a lot of rap fans, I've always had a complicated relationship with Noreaga. I wouldn't necessarily call him a "good" rapper by traditional standards, but the man knows how to pick beats and likes to have a good time, so it's hard to deny that his music has often been highly enjoyable in spite of itself. Either way, he's been relatively quiet for the last few years, so it was easy to assume that he was one of those relics of the late 90's/early 2000's who was pushed to the side in favor of emo-rappers and trap stars. As it would turn out, N.O.R.E.'s back with a new mixtape — Crack on Steroids— and believe it or not, it's pretty good. Seriously.

Perhaps because he's style as always been a little odd to begin with, N.O.R.E. manages the difficult task of making songs that are consistent with his past hits (especially those from his solo era) but don't feel like out-dated throwbacks. "Hare Krishna" (with RZA) is a new N.O.R.E. classic—it makes perfect sense despite being largely composed of nonsense and is suitable both for the clubs and the thugs. "Lehhhgooo" is the latest in the line of big N.O.R.E. posse-cuts, complete with some help from cameo-king Busta Rhymes. Fans of the earlier CNN style should be just as happy with "Mazel Tov" (with Action Bronson) and a Capone-n-Noreaga reunion on "My Alias."
As mixtapes go, "Crack on Steroids" has some fairly high-profile production credits including Just Blaze, will.i.am and DJ Premier. Some of these tracks are probably culled from N.O.R.E.'s various failed attempts at releasing a retail LP over the last few years, so the tracks themselves seem to be more than just throwaways or half-hearted favors. It's shame that nothing from Swizz Beatz or The Neptunes made it through since they've given N.O.R.E. some of his best tracks over the years, but the material that did make it is mostly of album-level quality.
I still don't know where Redman is and I still don't believe that Bone Thugs~n~Harmony will ever have a good album again, but it's nice to know that there's some hope for those 90's artists who have seemingly faded away. No need to be overly dramatic—"Crack on Steroids" isn't quite "The War Report"—but the mixtape is a solid release from N.O.R.E. that makes me much more excited to hear his next official LP. When that will happen and where it'll come from still remain in question, but I'm officially curious again.
live local music on
Enter your ZIP code to see concerts happening in your area.
Data provided by Zvents
follow msn music