MMG Celebrates "Self Made" Success With New LP
Tighter roster makes for a better album overall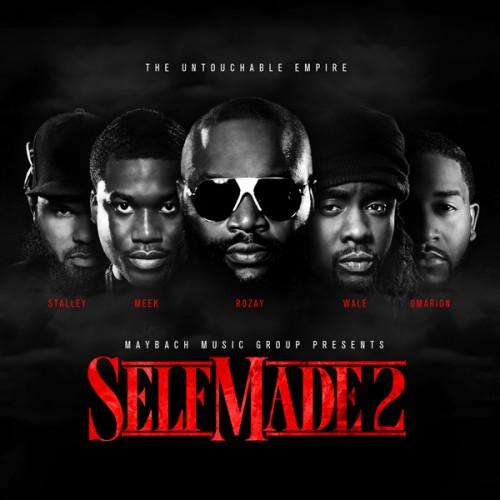 As the Maybach Music Group continues to refine it's roster and create new stars, the time seems right for another group affair—"MMG Presents: Self Made vol. 2." While the basic idea of the album is the same as the first "Self Made," the upgrades made to the label over the last year have translated into the music itself, making for an overall better album.
To begin with, the five-man roster of Rick Ross, Wale, Stalley, Meek Mill and Omarion is the focus of the album with less guest appearances or second-tier MMG artists gumming-up the tracklist. Meek Mill's recent promotion within the MMG ranks brings with it more confidence, resulting in "Black Magic" feeling like a potential single rather than filler. Wale acclimated to his role in the group fairly quickly, but he's taken on a larger role on this album as well, appearing on a majority of tracks. He comes across well on "I Be Puttin On" and also suitably compliments Omarion and Meek on "Actin' Up" or "M.I.A."
MMG newcomer Omarion proves to be a decent addition to the team, bringing his prior experience to the project and therefore handling the responsibility of solo tracks well. "Let's Talk" (featuring a Biggie sample on the hook) is solidly R&B/pop material, but it doesn't feel out of place on the mostly rap album, and he suitably plays his part on "This Thing of Ours" (with Ross, Wale, Stalley and Nas). Rick Ross spreads himself around the album generously, and while there's not much to say about his appearances that haven't been said about Ross before, he's still a welcome presence on more or less anything.
Obviously a group album will never feel as deep or personal as a solo album, so "Self Made vol. 2" isn't necessarily on the level of "Teflon Don" or "Ambition," but fans of the MMG roster should find it to be an enjoyable appetizer until more solo albums are available. 
live local music on
Enter your ZIP code to see concerts happening in your area.
Data provided by Zvents
follow msn music