Miguel Previews His "Kaleidoscope Dream"
The R&B soulster returns with a colorful follow-up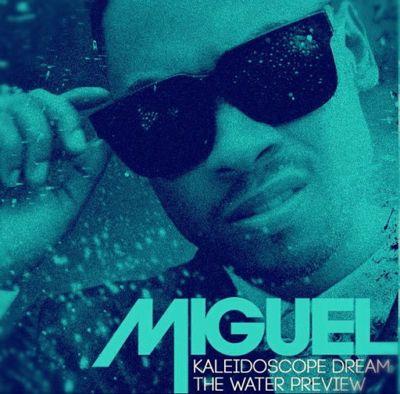 When artists whine about being snubbed for an award, they're usually met with eye rolls as, more often than not, their work never warranted such a trophy. But when Miguel
did the same
- over not receiving a Grammy for his debut, "All I Want Is You" - most of the crowds nodded in agreement. After all, the title track and follow-up fan-favorite "Sure Thing" sounded the summer of 2010 and topped charts, respectively.
In an effort to ensure this mishap doesn't repeat itself (and to remind us that, despite his lack of accolades, he's still one of the most unique, and thus deserving, artists R&B currently has to offer) Miguel kicked off the year by releasing, piece-by-piece, his ambitious three-part EP "Art Dealer Chic." Now, prior to dropping his sophomore album
"Kaleidoscope Dream" on October 2, he's doing the same with two more EPs: "The Water Preview" (out tomorrow) and "The Air Preview" (due September 11).
The former starts with the already-acclaimed, bedroom-ready
"Adorn"
on which Miguel channels the late Marvin Gaye's "Sexual Healing" over a spacey synth-laden beat, a reverberating pounding, and a whirring bass - all enhanced only by the crooner's own background vocal outbursts; his rockstar roar morphs into the echo of a water dripping.
"Use Me"
is no less successful in the sultry department; electro blips fall sporadically over Miguel's falsetto, matched only by a screeching guitar, as he makes more than one request, delivered quite convincingly: "Trust me / while I take this off / with the lights on / 'cuz it turns me on." Lastly, the eerie
"Don't Look Back"
samples the Zombies' 1967 hit "Time of the Season" and a creepy clap, complemented by the crashing of a cymbal, help chronicle the singer's cannibalistic tale: "If I should claim a victim / to devour before the light / I pray that you forgive me / It's just my appetite."
Once again, Miguel proves consistent in delivering his trademark: modern-day mash-ups of pop-tinged soul that still manage to sound timeless. That, in itself, is deserving of something.
Listen to "The Water Preview"
here
.
live local music on
Enter your ZIP code to see concerts happening in your area.
Data provided by Zvents
follow msn music