Kanye West: The 5 Most Revealing Moments from His "Revel" Concerts
Happy New Year, 'Ye! He's got good reason to celebrate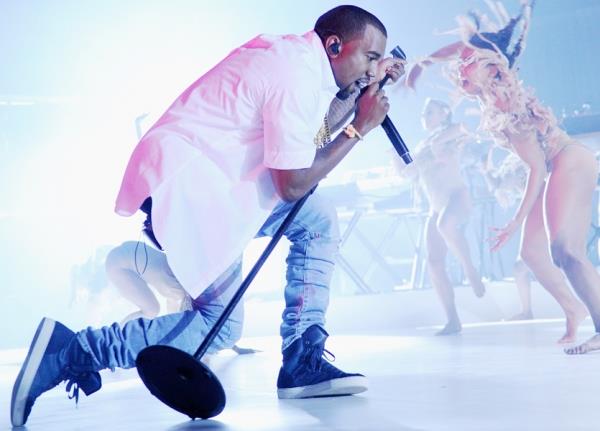 On Sunday (December 30), Kanye West's three-night concert series at Atlantic City's Revel Resort and Casino in New Jersey came to a close. And over the seven-screen, 75-minute performances—which included opener "Cold" and closer "All Falls Down"—fans learned quite a bit about 'Ye, not that he's ever been the private type...but here's what we've got anyway.

5. He's still holding a grudge against you non-believers.
Despite it being nearly a decade since 'Ye debuted as a solo artist, he's still pretty upset with those who didn't believe he'd make it:
"When I was a producer, they told me not to rap. They said, 'You don't look gangsta enough, where's your throwback? Where's your fitted hat? How the f**k is you trying to rap? Look at your pants, man, how skinny is that!? What the f**k makes you think that you could rap?' Fresh Prince was the first n***a to win a Grammy; me, John Legend and Common became the Grammy family. Nah mean?"
We do, 'Ye. We do.
4. He is not, contrary to popular belief, crazy.
After performing the G.O.O.D. Music hit single "Clique," 'Ye went on to rip the media, as he's been known to do, while speaking in third person—also not surprising:
"It won't be long before we're designing sh*t, stores, movies, clothes, operas. It won't be long now. It won't be long now. You know the press and the media will try to come up with all of the dumbest sh*t in the world to try to distract y'all from what you're seeing and experiencing right now, but it won't be long. It won't be long now. And they'll try to tell you 'Kanye's so crazy, so deranged.' I ain't crazy, I'm just not satisfied! I just ain't satisfied with the sh*t they be feeding y'all on TV. The sh*t they be feeding you in the movies, the sh*t they be giving y'all in the stores. I just want y'all to have more."
Sooo, are you satisfied or not, 'Ye? It's not clear.
3. He's still anti-Grammy Awards (despite having won a ton).
Remember when 'Ye  showed up to his 2006 post-Grammy Awards party holding an "I told you so" sign after taking home three awards? You know, back when we still all thought his inflated ego was kinda endearing? Well that likely won't happen again this year, despite him being nominated for six more:
"How many Grammys do we have? 18 Grammys. All in the black categories, though. But nonetheless, 18. I love Maroon 5, but when I lost Best New Artist to Maroon 5—you know what I mean? Or when "Watch the Throne" and "Dark Fantasy," neither of them got nominated for Album of the Year, you know what I mean? Or when 'N****s in Paris' didn't get nominated for Record of the Year, you know what I mean? So don't expect to see me at the Grammys this year, you know what I mean?!"
Again, we do.
2. He really, really likes masks.
That is all.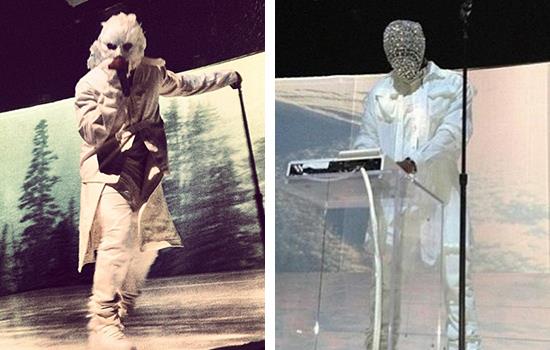 (Left: "Kanyeti"; Right: diamond-encrusted, courtesy of Maison Martin Margiela.)

1.  He and girlfriend Kim Kardashian are expecting!
A baby, that is. With Kim watching from the audience, a wide-smiled 'Ye stopped mid-song and announced the news to his 5,000 concertgoers in a really romantic(?) way:
"Stop the music real quick, stop the music real quick. Can we make some noise for my baby mama?" 
Blue Ivy, you're so 2012.
live local music on
Enter your ZIP code to see concerts happening in your area.
Data provided by Zvents
follow msn music