Curren$y Holds His Own on "The Stoned Immaculate"
Latest major-label effort is more than just a list of guests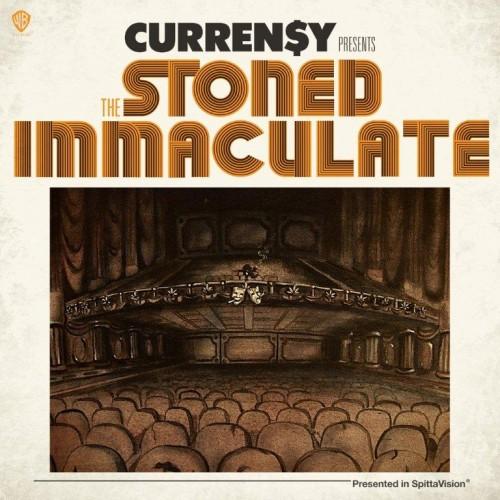 While Curren$y's name has frequently appeared on blogs over the last few years—often scrawled across the artwork for other artists' singles—one could be forgiven for being a bit behind on his work due to his lack of a mainstream hit single thus far (not counting his earlier, oft-forgotten work with Master P and the 504 Boyz). Nevertheless, Curren$y has solidly established himself as a rapper's rapper, earning a considerable amount of respect from A-list emcees and producers that have resulted in an impressive list of collaborations mixed in with his catalogue of solo work. His second major-label album, The Stoned Immaculate, has plenty of both, so if you have in fact missed out on Curren$y's work so far, it's not a bad place to jump on.

One of Curren$y's greatest strengths is his ability to pick beats that best fit into his own style and aesthetic. While that should be easy considering the caliber of producers he's working with, plenty of artist have squandered similar opportunities by simply being "happy to be there" and accepting throwaways instead of creating fully-formed songs. Instead, Curren$y demands excellence on "Take You There" and "Chasin' Papers" (feat. Pharrell) and rather than trying to convert himself into an imitation of Rick Ross or Clipse, he brings the J.U.S.T.I.C.E. League and The Neptunes to him. He's equally confident when working with other lyricists, again sounding perfectly comfortable alongside Wale on "What it Look Like" (below), demonstrating that he's been at this for quite awhile even if the general public still hasn't fully caught on.
While his style is firmly established in the south, Curren$y plays more towards the lean-friendly traditions of New Orleans, Houston or Tennessee than the big, hyperactive sound that people currently associate with the region. "Privacy Glass" and "Armoire" would pair well with purple smoke and "Sunroof" would appropriately sound best coming out of a Cadillac moving at 2 mph. A handful of artists have been working hard lately to reestablish the range of southern hip-hop and represent what the genre used to be and Curren$y is certainly one of them.
As Curren$y continues to establish himself as an artist, he's doing a good job showing that he's deserving of all the praise and attention from his peers. Meanwhile, The Stoned Immaculate should be plenty enjoyable both to the audience he does have and those who may wander by. It can't be easy being a new artist who's been around for a decade, but Curren$y is definitely making the best of the situation.
Are you sure you want to delete this comment?
live local music on
Enter your ZIP code to see concerts happening in your area.
Data provided by Zvents
follow msn music