DJ Khaled Brings the '90s Back on "Kiss the Ring"
But is that a good thing?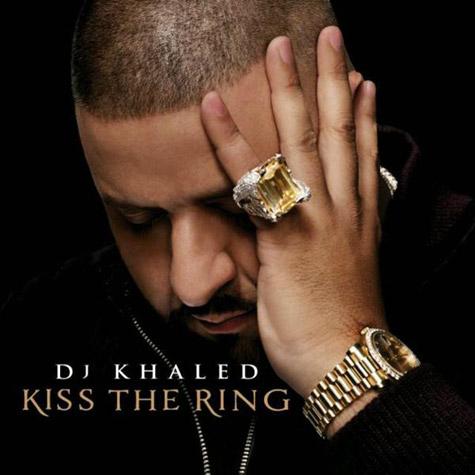 Back in the late 90s, celebrity DJs like Flex, Clue and Skribble would release high-budget retail mixtapes featuring collabs, remixes and posse cuts with any rapper that mattered at the time. You'd think these projects would have become a relic in today's market, but DJ Khaled has managed to remain one of the few people still able to release them successfully. His latest, "Kiss the Ring," improves on the old formula in certain ways, but some of those habits are apparently hard to break.
Like the 90s versions, "Kiss the Ring" has enough A-list guests that almost anyone should find something of interest. Single "I Wish You Would" brings Kanye West and Rick Ross together for some well-executed tough-talk, and while the track doesn't create the level of synergy the duo has had on other collabs, it works well for them both. The most notable track brings Scarface, Nas, DJ Premier (!) and J.U.S.T.I.C.E. League together for "Hip-Hop," briefly stepping away from the dramatic flair of the rest of the album for something at least a little closer to the era these heavyweights came from.
Unfortunately, also like the 90s versions, a lot of these guests seem obligatory or tacked on. "They Ready" doesn't quite seem right for J. Cole, Big K.R.I.T. or Kendrick Lamar, missing the mark on something potentially interesting on paper. "Bitches & Bottles," on the other hand, exactly what you'd expect out of T.I., Lil Wayne and Future on a lazy day. Two solo tracks close out the collection, but "Suicidal Thoughts" in particular (with Mavado) sounds more like an unfinished reference track than a fully-executed idea.
DJ Khaled's does better than his predecessors by assembling a mixtape that feels stylistically cohesive rather than a hodgepodge of styles with little relation. On the other hand, that cohesion comes from circling the wagons around the southern-ish Hip-Pop that everyone else is already churning out every day. There has to be at least a certain percentage of that in your life so "Kiss the Ring" is among the better places to get it, but ultimately it's just a mixtape so none of these rappers really care anymore than you will.
live local music on
Enter your ZIP code to see concerts happening in your area.
Data provided by Zvents
follow msn music