Chris Brown's Fame Leads To "Fortune"
Though there's no wealth of creativity to be found.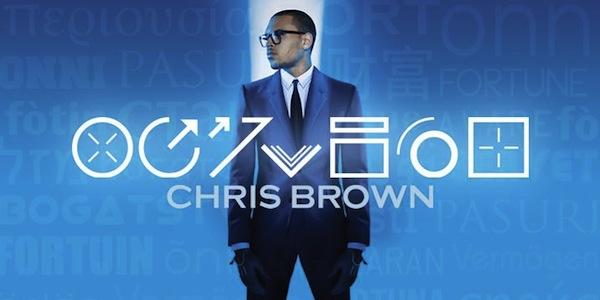 Originally conceived as a companion disc to last year's "F.A.M.E.," Chris Brown's "Fortune" instead comes to us this summer as its own entity. There's been no shortage of Chris Brown material lately so his loyal fans haven't had to burn with anticipation, but nevertheless, he's delivered an LP that they should be satisfied with—that's the good news. On the other hand, those who would approach a Chris Brown record with skepticism won't be swayed, because words like "fresh," "new," or "good" don't really figure into the equation.
By now, it's pretty clear what we should expect from a Chris Brown album and, for better or worse, that's what he's delivered. "Fortune" is a big, shiny, light-board of an album that hits all the expected modern Pop trends. "Turn Up the Music" is a House-derived tribute to dancing and turning music up, "Bassline" is a dark, bass-heavy track where Brown kind of raps and "Don't Wake Me Up" is another House Pop track that starts off with some acoustic guitar.
While he's not nearly as artistically daring as some might like, the material plays to Brown's strengths and the results are better than those of similar acts vying for his spot (even if only incrementally so). Surprisingly, most tracks fall into the category of mid-tempo ballads and love songs with relatively few club-ready options. "Biggest Fan," "Stuck on Stupid," "4 Years Old" and much of the rest of the album's core are somewhat interchangeable, but like with the more high-energy fare, Brown does what's asked of him in a manner that will please those asking. Unfortunately, that adds up to a lot of songs that are very much "of the moment" but won't really stand the test of time.
There's also the matter of Chris Brown's well-publicized personal issues. Without getting into a lengthy debate over forgiveness and privacy and all that, suffice to say that it's difficult to ignore Brown's past no matter how you feel about it. He certainly might like you to forget it, and you may even want to forget it yourself, but including tracks like "Don't Judge Me" make that difficult. No, the song isn't actually about his real-life struggles, but it still tempts the comparison in a way that makes you wonder if he recognizes the fact that his story is still bigger than his act.
There's still obviously a lot to unpack on the subject of Brown's personal life, but even if you're able to put that aside, there are a few professional mistakes to make up for as well. Fortune" features a lot of effort, but little actual creativity—just a well-studied approach to creating Top 40 records and Mall Pop. Should you already count yourself among Chris Brown's fan base, there will be plenty to like about "Fortune." It won't pull anyone over the fence, however, and will only frustrate further those who feel lost in the current Pop marketplace.
live local music on
Enter your ZIP code to see concerts happening in your area.
Data provided by Zvents
follow msn music